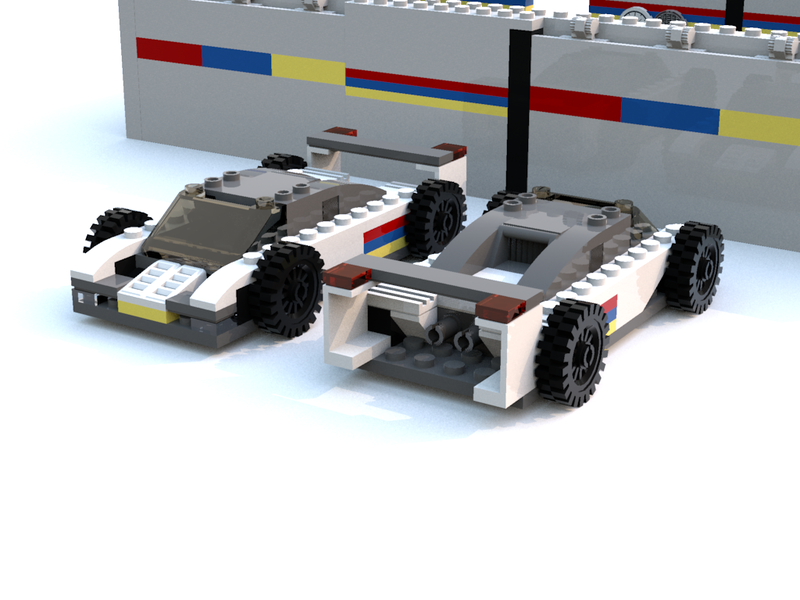 As a kid, it was hard to tell which I loved more, cars or Lego. So I guess it makes sense that I spent years combining the two! Switching to Lego's digital designer only opened up some more possibilities (and reduced the costs, being a broke student). Here are some of my favorite creations!
Usually I try to dream up some technical regulations (max. wheelbase, track, with and length, usually) to create a category of motorsport, and then build as many different cars that fit the bill. So here are a few from some sort of LMP1 category:
If we ignore the fact that they are all open-wheelers (because it's really a pain in the ass to close the wheels at that scale), I also try to make them as believable as possible. They all have somewhat decent aerodynamics, a strong chassis, cooling, exhausts, head and brake lights, and in most cases a detailed engine. Although the engines are all boxers (exept the inline-fours, but these are slanted at a 90° angle too), because they are easier to package in these tiny cars, they come in different flavours, from flat-fours to a crazy flat-ten (a world first?). I like to think that the cars with the most cooling capabilities (like the two above) are turbocharged, but on that scale it's pretty much impossible to detail. Or maybe someone more talented than me could!
Although recently these have been my favorite category to work on, I have made up many others, like this old-school single seater class:
Or some open-top prototypes:
A while back, I also did some weirder stuff. I made up two classes which supposedly compete in Dakar-style events, but are single seaters and pretty light, with big fat engines and advanced aerodynamics. Like some sort of mix between F1 and the Dakar buggies:
If you think these are weird, wait until you see the real big boys:
I also tried to make some more realistic F1s, but these don't leave that much room for variation, so I only made two:

Maybe one day I'll go and buy enough parts to build them. But in the meantime, back to the building board!