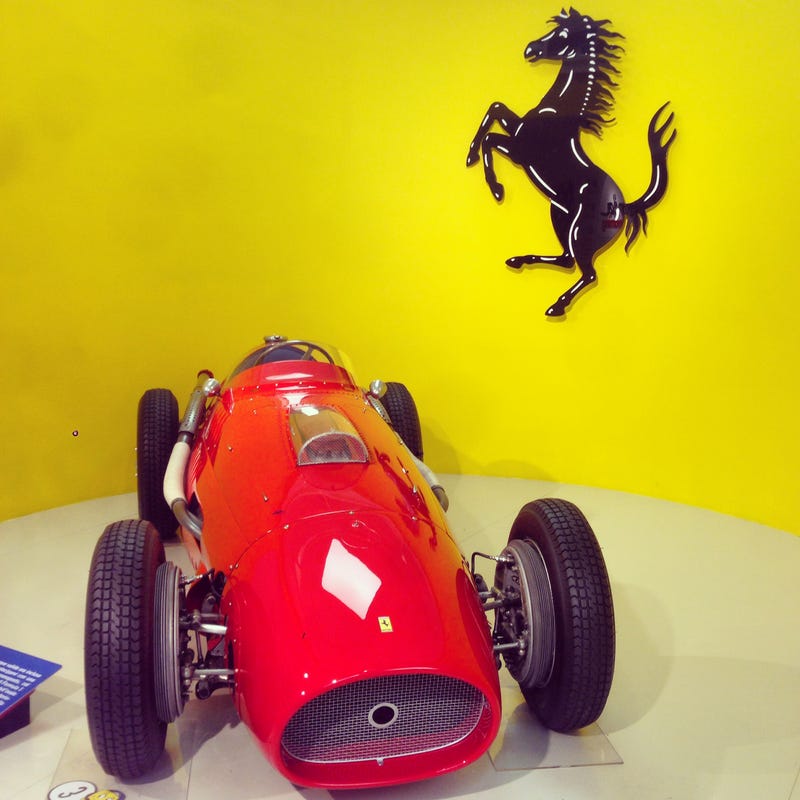 ...you drive an hour out of the way to go to Maranello and the Ferrari Museum...
(Also, on the way I saw a yellow LaFerrari on the Autostrada, it was glorious. No pics since everyone else in my car was asleep and couldn't snap one for me!)
The museum is a lot smaller than you'll think it's going to be. But still a good value for the $15 euros.
What shocked me most was just how close you can get to these fucking cars! I touched a F40 LM and a 250 California. That's $30mil in cars right there. They had their early F1 cars just sitting around like it was no big deal. Sure there were signs that said "Please do not touch" but there were kids running around smacking eachother and occasionally the cars too. It was a free for all. Incredible.
It didn't have my favorite Ferrari, the 250 GT SWB, but the F40LM, 250 California, 275 GTB, 330P, 333SP, and 512M kinda made up for that.
Also, a Rally group of weekend rich fellows went through the town we were in, I'll have those shots up shortly.
UPDATE: Here's the Random Rally Cars
(Forgive the iPotato pics, didn't bring my good camera, ignore the crappy black dots, there's crud in my lens)
So, on to the pics:
Here I am hiding a massive erection:
Colani is an odd fellow:
The Enzo display was just about the creepiest thing I've seen in a museum:
The F1 Hall:
(Shitty pano from going to fast to beat the stupid people who walked in on the right)
Anyone want to swap one of these into their Miata? They're just laying around all over there to put your grubby hands all over them.
One of my favorites: Kimi's winner
The family china cabinet isn't too bad:
The hat collection is impressive as well:
They had a pre-production LaFerrari in there too. There was a separate room with only glow in the dark strips on the floor and the contours of the car. A spotlight would shine on the car for about a second every minute. If you wanted a shot of the car and didn't have a photobooth's worth of flashbulbs you had to stand there and wait a bit. Very odd.
Wind Tunnel 1/3 scale models:
The most important part of any Ferrari, the official FIAT fire extinguisher, these were all over the place which I found pretty amusing:
And as always, Ferrari being classy, FORZA MICHAEL!