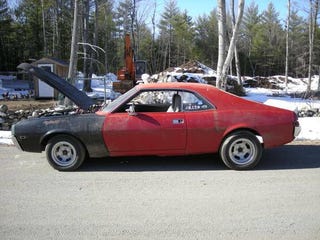 Well, I have been reading about restoring cars, and how some kids can drive them around, yet no one should attempt to restore one when they are young. I do not like the conclusion, and cannot wait to get and wrench on an older car. What should I do?
This must be my third or so post about restoring cars but being unable to because of age.
I have done a lot of crap to my truck. Brake lines, rotors, calipers, differential oil change, regular engine oil change, door handle replacement, bumper replacement, and the list goes on. I have been dying to get an old car; in fact I have been searching craigslist almost every day since I was 15, almost four years ago.
I love the old amcs. I love the first generation amx (my dream) and I like how ramblers and rebels seem to be the last open canvas for restorations. There is no 'must' in the restoration of an amc. But at the same time, parts are harder to find.
Tools: Hehe, I have bought all of my own tools. I have dewalt cut out tools, a 20v drill, craftsman 400 pc mechanics set (very good set), a 3.5 ton jack, jack stands, but no welder. (limited accessibility to small mig welder that my dad has. Currently don't know how to use it very much, other than when he sets me up.)
I am really looking for a project car under 2k, which isn't that bad, as everyone says. I am looking at every american make mainly before 1980. Scouts, javelins, ramblers, jeeps, chevelles, lemans, novas, skylarks, cutlass, etc. People say "you can't buy a project for less than 5k", which I found to be false; generally. ie, look at a couple that I have been looking at:
http://boston.craigslist.org/nwb/cto/446346…
http://maine.craigslist.org/cto/4469594628…
and just loosely, due to lack of info:(rare as a hens tooth, engine worth alone...)
http://boston.craigslist.org/gbs/cto/447166…
Yeah, 2k is small. However, I am just using that as a beginning. I have more money for some parts, and I can do some body work, except final paint, which isn't necessary unless I don't primer seal the car.
I have time this summer, and I figure I have to finally do something classic related. I have contemplated trying to rebuild junkyard carbs, and just generally rebuilding beat up parts found on craigslist that are good deals. Only thing is that all body parts need to be sanded to fit, which I can't do unless I have the car.
So what should I do, because I am kinda tired of waiting for something to happen, which never will. I know a ton of crap about cars after 4 years of research, and have a severe itch to start some work. My family really has no connections. I have been going to shows recently, but my dad is a carpenter who works fourteen hour days, and no one I know has an older car. Thanks for any advice.
*I have applied to a local restoration shop for any position, applied to a couple dealers, as well as numerous other jobs that I know I will not get called for. I seemingly have an open summer other than doing carpentry jobs with my father sometimes, which will get me gas and part money. Thanks for any help.