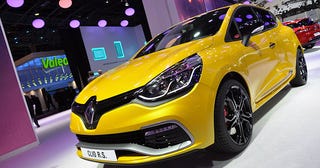 What do you do when you love cars and you have to do an internship ? This !
So I'm in an engineering school in Aix-en-Provence, France and during our first year we have to do a one month internship as a worker. I really wanted to do something with cars, and I managed to find an intership in a factory owned by Renault. But it's not just any factory, it's one with quite an heavy history and really tied to french motorsport and rallying.
Yeah, I'm doing my internship at Alpine, in the factory in which they are building the new Clio RS (pictured) and where they build all those great cars like the Alpine A110, A310, A610, Megane RS (until 2009...) and much more.
I've been there for a week and it is so awesome, seeing the different stages from a simple shell to a complete and good looking car.
Oh and the yellow paint is way better in reallity than in this picture.