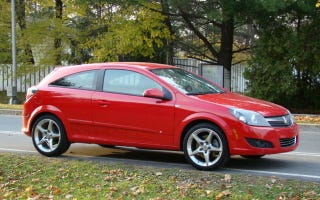 I've been thoroughly enjoying my Sonic for a month now. Its a good quality small car in a sea of quality small cars that weren't even impressive even a few years ago. But driving around in my Sonic makes me wonder where the Saturn Astra went wrong.
Available from 07 to 09 here in the US, (Saturn's demise) it came in 3 and 5 door hatchbacks, was available with a manual it was decent looking, though midpack. The rest of the world got it as an Opel in the UK or a Buick in China. For some reason, there are like 5 just in my neighborhood, which I find strange.
Other then the little history I gave there, I dont know much more about it other than it was a slow seller, and had kind of a high starting price. Ive heard other people say that it didn't sell well because of a combination of the Ion, and the unknown regarding Saturn's overall future at the time. What puzzles me though, is the fact that now almost all of Buicks lineup is basically EU Opel transplants and they are doing fine. But this one small version didn't succeed for whatever reason. What do you guys think it was? Would it have worked early on as a Buick entry lux small car or was it just not a good car period?