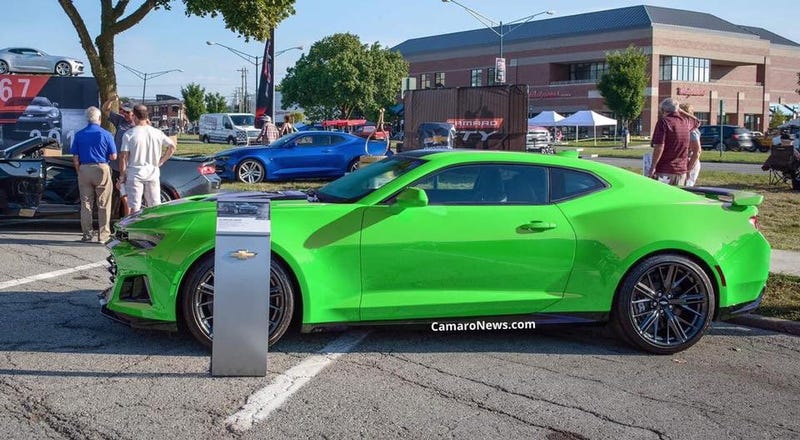 My initial question dealt with the lack of ZL1 reviews, especially with so many sitting around in dealerships without any markups. However, I did notice that ALL of them have manual transmissions. Im assuming the 10-speed was late to production and we will start seeing the reviews as soon as those automatic cars roll off the line (which should be by now).
Also, Krypton Green will be added on to the ZL1 paint choices. I'm betting this green will only be applied to automatic cars unless someone actually orders the color on a manual car (maybe a few dealership owners). I'm going to predict that a Krypton Green, manual equipped 2017 Camaro ZL1 will be an extremely rare combination.
My next thoughts came back to the DOHC LT5 V8 that's coming to the Corvette this year. Everyone is saying mid-engined 'Vette but I'm still thinking Stingray. There is a refresh coming any minute now for the C7 Corvette (it's been out for 4-years) and I'm wondering whether this LT5 is going into the Stingray and/or Grand Sport before becoming the regular engine in the C8.
Now, I sincerely believe the C8 will be mid-engined which means that this upcoming ZR-1 will not only be a send off to the FMR Corvette but also the push-rod GM V8 engine. The two things GM did best! Pretty much a guaranteed classic and an honest car for collectors. I mentioned there was a supercharged V10 Viper planned to sit above the ACR but the standalone SRT brand was killed and the Viper shortly after. This ZR-1 was intended for that Viper (which would have been coming out right now) so get hyped! Imagine an ACR-plus and I hope you realize level of performance this upcoming ZR-1 will have. Seriously, the C7 ZR-1 will be a legend upon arrival and I think the C7 will continue alongside the C8 for a while.
Of course these are mostly early morning speculations from that weirdo Wobbles, but hopefully this will perk your nipples! I think 2017 is going to be an even better year for performance cars than 2016 was, and 2016 was better than 2015, and 2015 was better than 2014, and 2014 was better than 2013 which was an incredible year for performance cars!