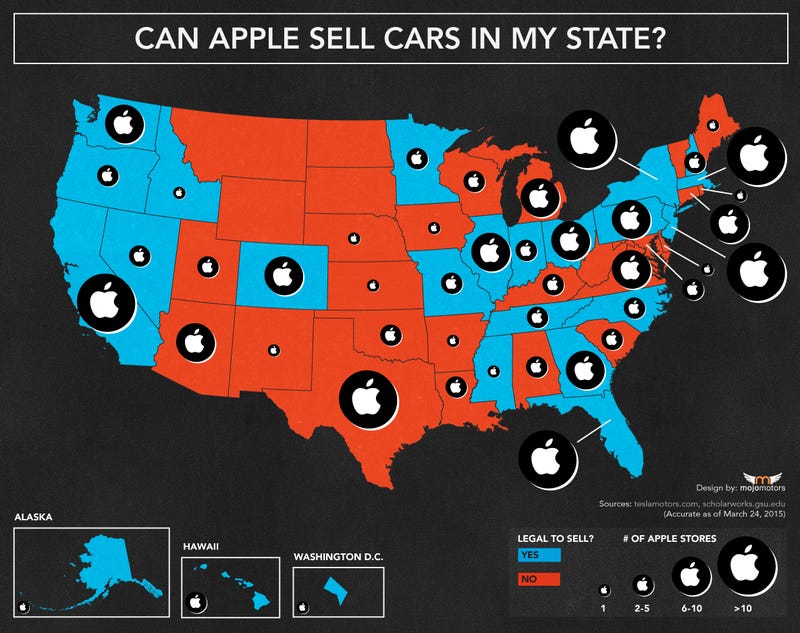 The year 2020 is slated to be an epic one for the auto industry. By then, Tesla plans to have a 'gigafactory' capable of producing enough batteries for 500,000 electric vehicles, the seven major automotive manufacturers (including Musk's juggernaut) will be selling driverless cars and Apple is going to release a car to sell along with its phone and watch. Or so they say.
Apple is not only the richest company in the world, they're also known as one of the most secretive. Nobody knows whether or not they will actually manufacture and ship a car, but there is enough evidence to suggest that they are seriously considering it. We won't lie, we're excited about it, so we decided to join in the speculation.
Last year, we made an infographic asking the question "Can Tesla sell cars in my state?" In order for a state to be able to sell Teslas, the state would need to meet two criteria: first, direct sales from manufacturer to consumer would have to be legal and second, the state would need to have at least one Tesla showroom.
In our Apple infographic we broke it down in similar fashion. The 25 blue states represent those where direct to consumer selling is legal, while red states are those where it is illegal. The size of the apple icon indicates how many stores Apple already has in that state. There are only five states that do not have Apple stores yet: Montana, North Dakota, South Dakota, Vermont and Wyoming.
If Apple starts manufacturing cars, they will encounter many of the same obstacles that have plagued Tesla. Fortunately for them, Tesla will have already fought many of the the tough battles. For example, New Jersey just passed a law allowing direct sales to consumers. Other states like Texas are fighting to overturn bans on direct sales as well.
In terms of making sales, Tesla uses its showrooms to generate interest, but in states like Texas they can't actually complete the transaction in-store. Interested customers are required to make the purchase online. The internet selling allows Tesla to reach customers who live in states where direct sales are banned since an online sale technically gets registered as a sale in California, Tesla's home state.
Given the amount of time and money Tesla is investing to build more showrooms and lobby for the legalization of direct sales, it's obvious that traditional retail is crucial to Tesla's growth strategy. Tesla currently sells tens of thousands of cars a year, but it will have to increase its presence on the ground if it wants to reach the masses and compete with the likes of Mercedes and BMW.
Thanks to the leaders such as Steve Jobs and Micky Drexler, Apple is already a leader in both ecommerce and brick and mortar sales. In many ways Tesla has borrowed from Apple's retail strategy. Like Apple, Tesla's showrooms are located in prime, high-traffic locations such as luxury malls and metropolitan hubs. They're also staffed with knowledgable product experts who aren't pushy salespeople.
For those that choose to buy the iPhone or the Model S, it's not about the cost, rather it's the love of the product that ultimately drives the purchase decision. Apple knows how to design and market products. This is why they've been so successful, and much of their success is due to their stores. Apple lets customers play with and test the products as much as they want. If Apple produces a car, one would imagine that Apple stores would serve as a showroom where potential buyers could test it out just as they can with any Apple product.
If they choose to go with this strategy, Apple has a big head start. They already have storefronts in 45 states while Tesla only has stores in 21 states.
If Apple shipped a car today, the company could only sell directly to consumers in 25 states (the blue states on the map). Tesla supporters are already working full-on to increase that number. New Jersey represents a major win, and if Texas overturns the direct sales ban as well, that will be another huge win for Tesla and perhaps Apple too.
---
Mojo Motors is a website where shoppers Follow used cars and trucks to get alerts when dealers drop prices, sell cars and bring similar vehicles into inventory.