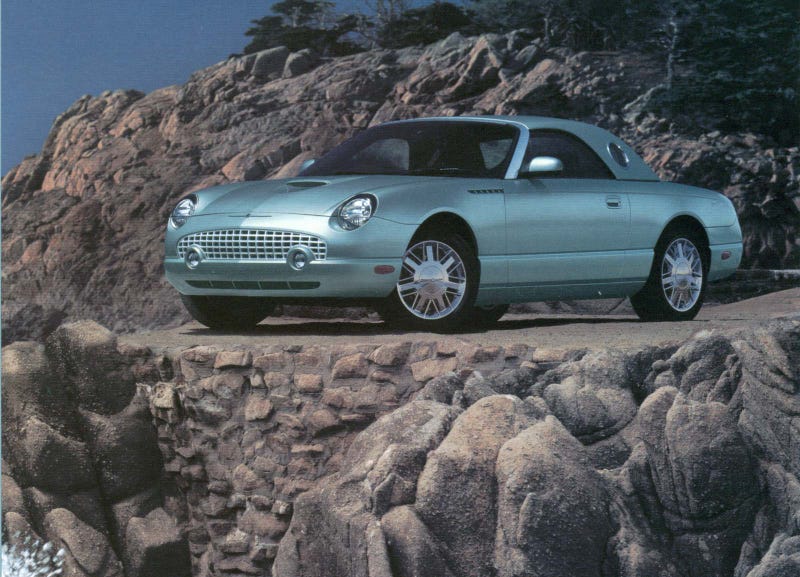 Retro styling was all the rage at the turn of the century, with multiple concepts and some production cars drawing on designs of yesteryear: the 05 Mustang redesign, Chevy's SSR and Bel Air Concept etc. Some of those cars would not win over many and still don't resonate well today. The Thunderbird was one of those cars.
Originally debuting as a yellow concept at the 99 Detroit show, it was a smash hit. So much so that Ford commissioned 2 more prototypes to be built for the circuit: a red one and a black one. Ford officially approved the design in May 2000 with it going into production that November for the 01' model year.
Riding on the DEW 98 platform that underpinned the Lincoln LS, Jaguar XF and S Type, it came with one engine: the 3.9 L AJ V8 paired with a 5 speed auto. Supposedly it was pushing 280 horses. But 0 to 60 was 6 and a half seconds. It also came with the option of both a removable hardtop (with Opera window!) or a conventional power convertible top. Not impressive, but Ford marketed it as more of a retiree special. Something that the AARP crowd would find more exciting than a Crown Vic LX Sport or the Mercury Marauder.
At one point Ford tried to gague the possiblity of livening up the Thunderbird line with the Superchageed concept seen above. Adding a supercharger to the 3.9 gave it 390 horses. But it never saw the light of day.
Dealers of course initially overcharged for them, and sales were strong at first, but declined every year. A total of 68,098 were made by the time production ended in 2005. So why did it fail? In its first year on the market, it got both Motor Trends Car of the Year and North American Car of the Year but it cooled off after that. Even today people dont think fondly about it. So where do you guys think, or know for sure where it went wrong?