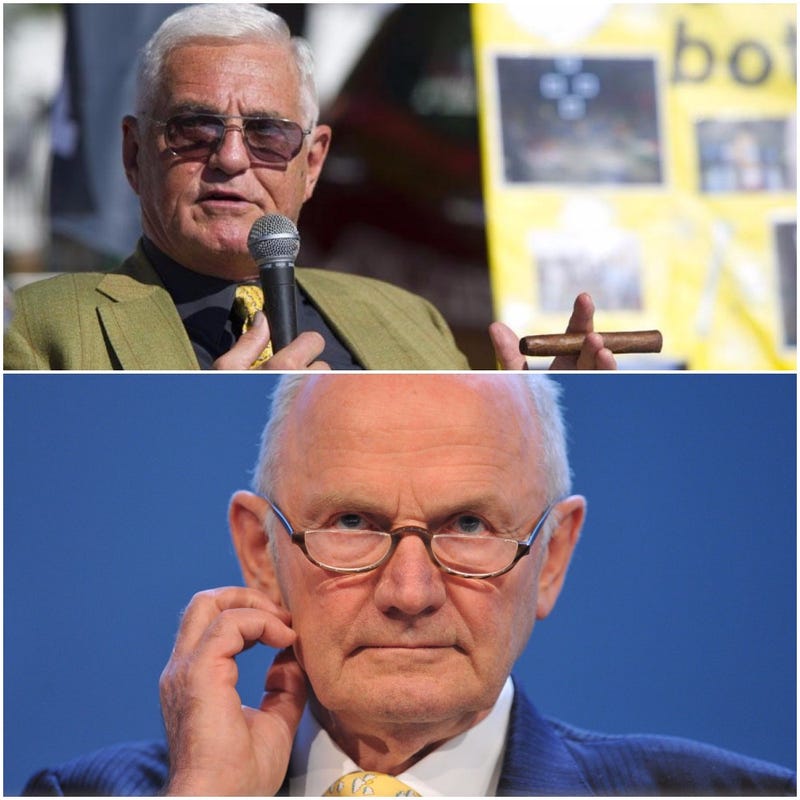 Both are sort of Auto industry icons. One was uniquely American who, in the latter half of his life was Vice Chairman at GM and had a hand in many performance toys coming to market. The other, a grandson of Ferdinand Porsche and worked his way up through the ranks of VAG and influenced the development and engineering of some of VW's most over engineered and complex cars to come from them in years.
But were they successful in what they had their hands in? And can their influences still be seen or felt in their respective companies today? Lets look at what they had their hands in.
Lutz begin his automotive career after leaving the marines. He started at GM Europe. From there he went to BMW where he was a sales executive for 3 years. Apparently he hand in developing the 3 Series and creating M. From there he became an executive VP at Ford and going over to be in Ford of Europe. While there he had a hand in creating the Escort III and the Sierra. When he came back to the us, he initiated the development of what would become the first gen Explorer.
After leaving Ford he went over to Chrysler, where famously he had a hand in developing the original Viper and the industry changing LH cars. But he left Chrysler in 98' right when the merger was happening.
Lutz became Chariman of GM North America in 01'. He would eventually stay until his retirement in 09. One thing I do give him is that he did push fun and performance on all of GM during his stint. But all but a few of what are said to be his initiatives are still around today. While at GM he had a hand in some modes such as:
He pushed for the import of the Holden Monaro for the GTO (we know how that went).
Bring the fantastic Cadillac Sixteen concept car to us that sadly never brought anything to fruition.
The Kappa twins (Sky,Solstice)
The failed Pontiac G8
The revamped 08' Chevy Malibu which he touted as being competitive with the Japanese.
The game changing first gen CTS (which has had sales go down pretty much every year since 2007)
The Buick Enclave
The above pictured Cadillac Converj which became the failed ELR
The Camaro Concept that lead to the successful 09 launch
The Volt which was supposedly started to leapfrog Toyota's ev efforts
Was he successful? That depends on what you read and what models you look at. He liked his toys, just look at the SSR. And some models that he had good intentions in starting, fell flat like the GTO or ELR or still continue to do so like the CTS. Sadly though GM couldn't escape the BK or the quality problems, even with some of the impressive models that he had a hand in.
Ferdinand Piech, grandson of Ferdinand Porsche was the top dog CEO at VW from 1993-2015. Before that, he headed Audi which he has been given credit for making the brand a rival to Mercedes and BMW. An engineer by trade, he was responsible for VW making moves upward in the early 00's with cars like the Phaeton and Touraeg, which were almost Audi like in their engineering.
He oversaw the purchase of Lamborghini and Bentley into the fold, and also brought back Bugatti and the eventual creation of the Veyron. His brand building with the acquisition of Lambo and Bentley gave VW a luxury group similar to Ford's failed PAG group.
Was he successful? Again, depends on your research and what you look at. He was known as a hard ass management wise, with being quoted as saying he fires any subordinate who "makes the same mistake twice. Keep in mind that this very management style is what got him ousted from the board after him and his wife tried to get Martin Winterkorn out.
Automotive wise, he was known for his high levels of engineering requirements like the Phaeton having to "sustain 186 mph all day, in 122-degree weather, with an interior temperature of 72 degrees". Why though? Just because I guess. Him looking over the shoulders of the Veyron, which Wendelin Wiedeking called a vanity project (along with a few other of Piech's) shows how committed he was to pretty much perfect. His craziness can be summed up well in this article.
 
I know I glossed over a lot of other thing, but both Lutz and Piech are similar to me in a lot of ways, but Piech seems almost an extreme version of Lutz in some ways, while Lutz has always had an enthusiast approach before all else. Which do you guys think was more successful with their products or having values that both their companies still practice today?