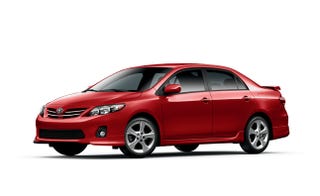 I always notice the cars in my St. Louis neighborhood while walking my dog (someone has a DINAN Z3, for example).
So, I noticed a Corolla parked on my block with the "S" package. I never knew such a package existed on the Corolla.
I chuckled as I realized it rolled on steel wheels with plastic hubcaps, a rear spoiler, and really no other outward evidence of sport.
So Jalopnik, the question I ask:
What is the most absurd sport package offered on a car?
Photo courtesy of Autoguide.com