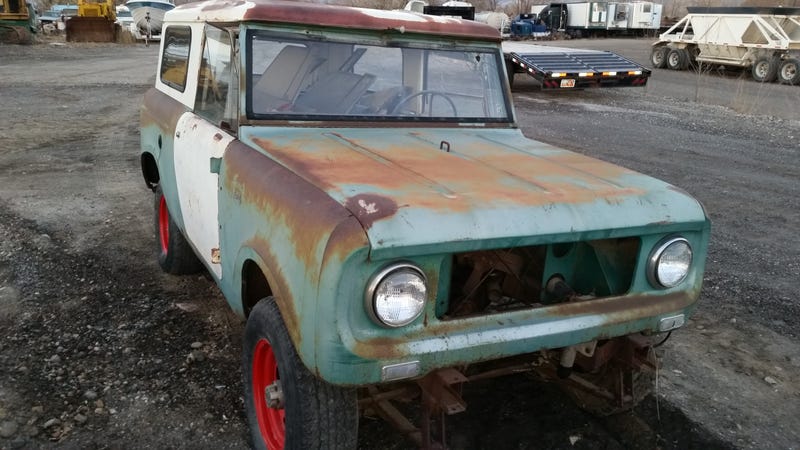 I posted a few weeks ago about a number of International Harvesters that were being saved from the crusher if I could get them sold. I pulled out five Scouts, I pair of Travelalls and a short bed 4x4 pickup. I have them up on eBay hiding under one listing:
The Travelalls are like Suburbans with style but I'm afraid that no one wants them. There are three Scout 80s, one rare Sport Top and a very early Scout, but I'm afraid that no one will want them. There is 3rd very clean USAF 80 that the owner wants to keep or sell for $1,500. The half-ton pickup is a wonderful piece of IHC history with wide Dana 60s, 4 speed manual, and a big recently rebuilt V8(345 or 392); sadly the body is too far gone. That leaves two Scouts left for me to choose from.
1969 Scout 800
The first is a good looking Scout 800, a 1969 with a 304 V8 and a 3 speed. The exterior body panels are good buy the tube needs some new sheet metal, possibly all new floor boards. The engine hasn't turned in 15 years, it's missing it's radiator, essentially the whole thing needs to be dissembled, rebuilt, painted and rewired. There is no power steering, power brakes, and the suspension consists of Dana 40s. All rubber parts are long gone.
The second Scout is a II, it has a working drive-train other than someone stealing the shifter cable, a still available part. Three of the fenders are rotted and an end cap is mashed. The interior is complete and would look good painted black and reassembled. The Scout II is a much more modern vehicle with power everything, A/C, and wiring that you can work with or at least replicate. The glass is good other than the windshield.
I am a decent mechanic but I have not learned how to do bodywork, I have some friends that would be happy to charge me though. Luckily Scout II fenders can be bought both used and new, and bolted back on. This vehicle will be my 13-year-old's daily driver until he goes off to school, I plan on involving him as much as possible over the next couple years.
Which one should I build? I'm leaning towards building a kick ass Scout II.
or maybe a sweet Scout 800