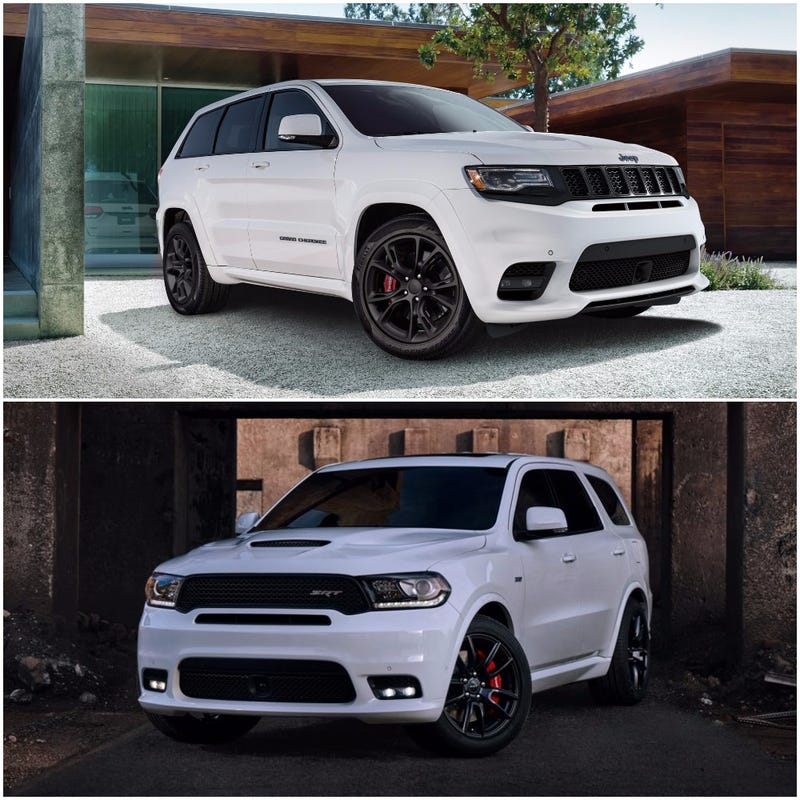 Both can haul families as well as haul ass and are so close in spec and under the skin they might as well be the same vehicle. Which would you guys choose? Lets take a look at them.
Fully loaded on both, just $4110 separates the price tags of the Grand Cherokee SRT, topping out at $78,070 and the Durango at $73,960. Thats pretty close. Both share the 6.4 475 Hemi as well
As I stated above, a fully loaded GC SRT tops out at nearly 80 grand. Keep in mind this isn't the Trackhawk either which is $8,925 bucks more than the "regular" SRT. With $9580 bucks in options that include nearly 2 grand for an audio system and $1300 for high performance brakes. Some might say this is a lot of a Jeep, but it still undercuts many other luxury performance SUV options, namely Range Rovers SVR and Mercedes GLE AMG.
The Durango SRT is in a sense the more family orientated of the 2 because its availability of a 3rd row. Dodge has also seem to be marketing it as more of a dad family hauler more than anything, something to appease people still mourning over the loss of the Magnum. Fully loaded at just under 74 grand, its a big pill to swallow for a Durango, even though it is an SRT. That price includes things like a rear DVD system, $1500 for what I think is a pretty bogus SRT Interior Appearance Group that only consists of stitching on the dash, a moon roof and performance seats. With its 3rd row, the Durango really has no competition. But without it, its still in the same arena of higher priced performance SUV's that the GC SRT runs with.
So which would you guys choose? Personally I would take the GC SRT. I think its been premium enough for a while now, especially the last few years, to command the price tag its asking. This is a new price range for both the Durango and Dodge. When I say that I mean that its still a new arena for them with the Hellcats and Demon. Before them only the Viper was on the higher end. Even loaded SRT Challengers and Chargers never reached 60 grand with options. I would pass mostly because of the depreciation hit it might take on.