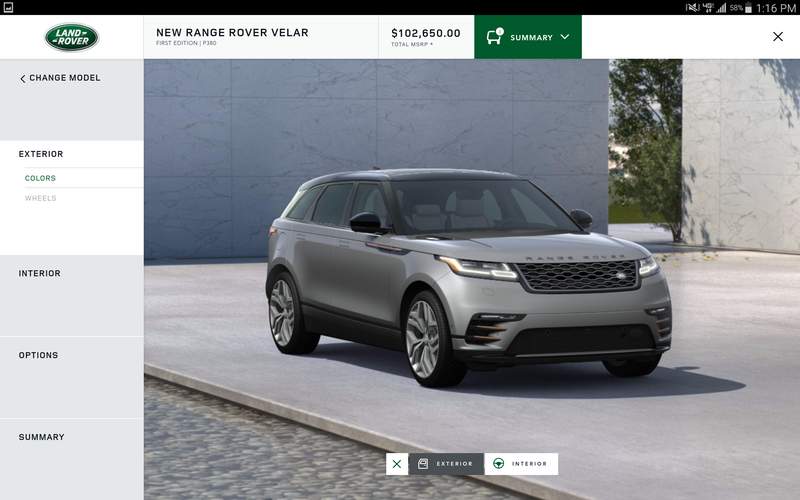 I cant get used to $100,000 cars being "regular" instead of "exotic." I remember when $100k got you a flagship. After going through the configurator, I realized that the Velar may be less of an F-Pace with better branding and more like a Range Rover Funsize for urban luxury living. The kind of Range Rover you can hand out with your Halloween treats!
The only places a Range Rover can't go is where it cant fit, perhaps that's where the Velar really fits in. I think this is a new take on the compact class rather than just some "Macan-fighter." I mean look at this stuff for the rear seat passengers:

*Wow, that link title is embarrassing. Thanks, Land Rover...
Huh, look at this goofiness coming up below! I've never seen factory 22" wheels on a car smaller than a Bentayga nor a $3,775 premium for dropping down to 21" wheels. This is probably the most expensive way to purchase 380 hp (which is pretty serious power for what it is).
Also, the front end you have been seeing everywhere starts at over $60,000. The versions in the $50k range I can guarantee you have never seen before in any reviews or marketing material...or this post! *Cue Mandark laugh*.
*Immediately sneaks picture into post.
I don't think the Velar is quite my thing. I'm waiting on the next Range Rover Sport for the buy and the next Range Rover for the dream. I need some space for these long, recumbendable dancer's legs, especially since they offer more towing than...
...
...than...
...
...than THIS WEAKNESS DOWN HERE!!!
It can tow 550 lbs with ease? I can freaking tow 550 lbs with ease!! I got that iKegel trademark. Im going to guess a zero is missing or else this thing is going to buckle under its first mall visit.
Whelp, it looked as if the Velars started arriving in the US (aka Colorado) this past weekend so let me know if your mother and father-in-law get one!