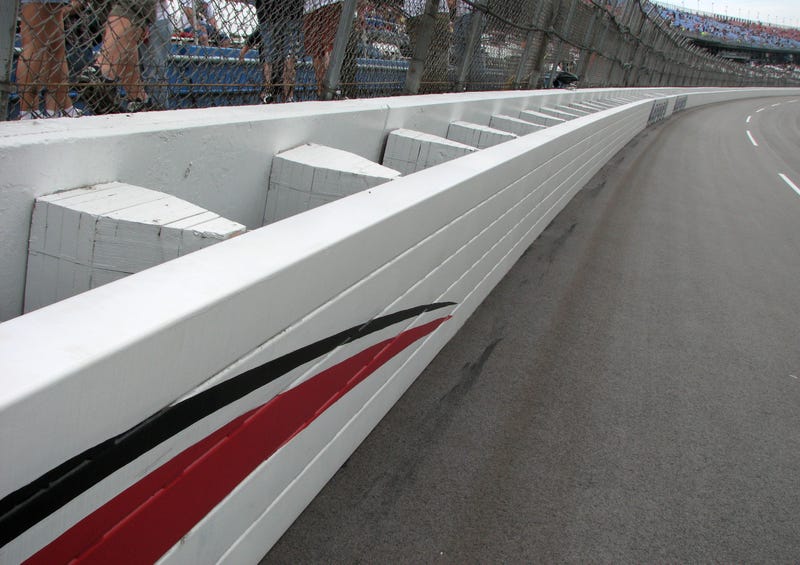 Motorsport attracts cliches, but one in particular holds true decade after decade: the road to safety is awash with blood. Some blood stains, requiring major changes in racing to clean to clean. Other blood beads, leaving only a crying family and glowing obituaries as a legacy. Ayrton Senna fits the former, and Roland Ratzenberger remains the latter.
With a new racing season upon us, the first after the deaths of Jules Bianchi and Justin Wilson, safety continues to crawl forward. Daytona International Speedway is finally ringed in SAFER barrier, as all oval tracks should. Teams and series are finally realizing that open wheel racing doesn't require open cockpits.
But, deferring to realism and cynicism, someone will have to die before series make transformational changes like 100% SAFER barrier coverage and closed cockpits on open-wheel cars. But who's deaths will spur these changes?
Below is a list of four major motorsport series in Europe and North America, which are also the series I follow most closely. If you have a list of drivers from series I don't follow closely, such as WRC, BTCC, or MotoGP, please share them in the comments.
---
Formula 1
Drivers whose deaths would force safety improvements
Lewis Hamilton - Mercedes
Nico Hülkenberg - Mercedes

Sebastian Vettel - Ferrari
Kimi Räikkönen - Ferrari
Felipe Massa - Williams-Mercedes
Fernando Alonso - McLaren Honda
Jenson Button - McLaren Honda
Daniel Ricciardo - Red Bull-TAG Heuer
Drivers whose deaths might force safety improvements
Valtteri Bottas - Williams-Mercedes
Nico Hülkenberg - Force India-Mercedes
Sergio Pérez - Force India-Mercedes
Romain Grosjean - Haas-Ferrari
The split between celebrity and grid-fillers, as well as employees and sponsors, is widest here. Drivers who have competed for wins and championships, either previously or currently, make the list. They also drive for the richest teams; teams that could force changes after their public face perishes. A team like Marussia F1 does not have the funds to make the death of a driver like Jules Bianchi, largely unknown to casual fans, matter.
Rising talents, fan favorites, and the number one driver for an American team fill the maybe list. The response from the fans and/or the American media would have to be overwhelming, but change could happen.
NASCAR
Drivers whose deaths would force safety improvements
Kyle Larson - Chip Ganassi Racing
Jimmie Johnson - Hendrick Motorsports
Dale Earnhardt, Jr. - Hendrick Motorsports
Austin Dillon - Richard Childress Racing
Kevin Harvick - Stewart-Haas Racing
Danica Patrick - Stewart-Haas Racing
Bobby Labonte - Go FAS Racing
Brad Keselowski - Team Penske
Joey Logano - Team Penske
Michael Waltrip - BK Racing
Kyle Busch - Joe Gibbs Racing
Carl Edwards - Joe Gibbs Racing
Drivers whose deaths might force safety improvements
Jamie McMurray - Chip Ganassi Racing
Kasey Kahne - Hendrick Motorsports
Chase Elliott - Hendrick Motorsports
A.J. Allmendinger - JTG Daugherty Racing
Paul Menard - Richard Childress Racing
Ryan Newman - Richard Childress Racing
Kurt Busch - Stewart-Haas Racing
Greg Biffle - Rousch Fenway Racing
Ricky Stenhouse, Jr. - Rousch Fenway Racing
Martin Truex Jr. - Furniture Row Racing
Denny Hamlin - Joe Gibbs Racing
Matt Kenseth - Joe Gibbs Racing
Celebrity and competitiveness is widespread in NASCAR, so these lists, both separate and combined, are longest here. Furthermore, the last NASCAR driver to perish in Sprint Cup, or any national series, was Dale Earnhardt. Any future death would include comparison to the seven-time champion's death and all the changes that followed and made NASCAR one of the safest series in the world.
The separation between the definitely and maybe lists is largely celebrity; which driver would the racing press and popular culture miss most. These deaths would fill headlines for months, not weeks. As Dale Earnhardt's death showed, as well as the near-death of Kyle Busch last year, NASCAR needs overwhelming media pressure to spend the millions necessary for substantial change.
Indycar
Drivers whose deaths would force safety improvements
Marco Andretti - Andretti Autosport
Ryan Hunter-Reay - Andretti Autosport
Scott Dixon - Chip Ganassi Racing
Tony Kanaan - Chip Ganassi Racing
Ed Carpenter - Ed Carpenter Racing
Josef Newgarden - Ed Carpenter Racing
James Hinchcliffe - Schmidt Peterson Motorsports
Juan Pablo Montoya - Team Penske
Hélio Castroneves - Team Penske
Will Power - Team Penske
Drivers whose deaths might force safety improvements
Charlie Kimball - Chip Ganassi Racing
Pippa Mann - Dale Coyne Racing
Graham Rahal - Rahal Letterman Lanigan Racing
Simon Pagenaud - Team Penske
Some Indycar drivers have name recognition outside of Indycar fans, and all of those drivers sit in the definitely list. Also in the definitely list are Ed Carpenter and Josef Newgarden. Ed Carpenter's family owns the series, so the response to his death would be as sweeping as it is obvious. Josef Newgarden is Indycar's best hope of appearing on Sportscenter more than once a year; losing him would make Indycar act out of desperation. Drivers making the maybe list either have powerful teams and sponsors, or in Pippa Mann's case, would be the most notable woman to ever die in a race.
However, given Indycar's relative shrug to Justin Wilson's death after Pocono last year, this list may be too generously long. Indycar did act after Dan Weldon's death, but the DW12 was already scheduled to debut and Las Vegas was a financial loser; the changes were coming anyway. Furthermore, James Hinchcliffe only survived the Month of May by inches, and Indycar only mandated stricter tech inspection.
IMSA/WEC
No particular full-time driver in IMSA or WEC is notable enough for their death to force changes in either series. A driver died on the largest stage in endurance racing in 2013, and not only don't you remember his name, nothing changed. You forgetting his name is understandable, the lack of action is unforgivable.
There are two cases where a death might force change. If an Audi, Porsche, or Toyota P1 driver died, the teams would force action. They spend far too much money to have their crumpled car feature in an obituary. Also, the Daytona and Le Mans races feature many one-off drivers from more popular series. The death of Nico Hülkenberg in a Porsche, Kyle Larson in a Genassi Ford GT, or even Jeff Gordon in a Corvette, would attract enough attention to force change.
---
This list is dark and depressing, but it can stay just that; a list. Series, drivers, teams, and fans already know what improvements are needed. Closed cockpits for all cars, SAFER barriers for all NASCAR ovals, and finally, finally funding the perpetually-delayed track safety improvements.
Hopefully that happens before we check to see if this list was accurate.
[Photo credit: Wikimedia Commons]