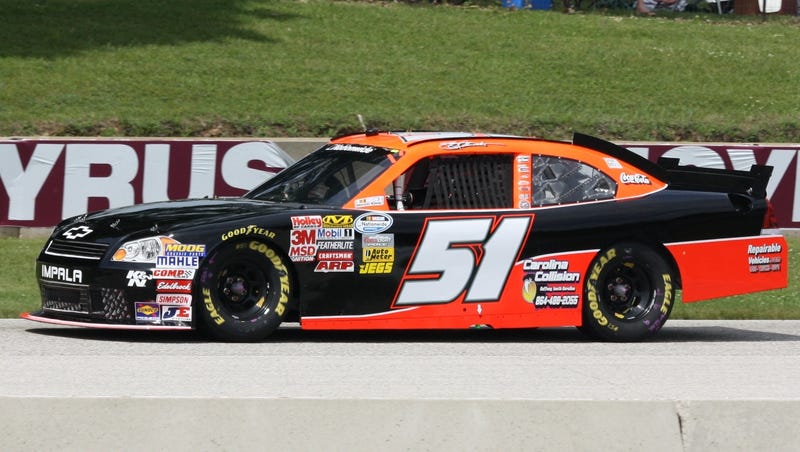 When news broke last night that NASCAR Nationwide Series driver Jeremy Clements was suspended for a "racial remark", it came as a shock to the motorsport community. It was a shock not only because it was the first time in nearly half a decade that someone in NASCAR had been suspended for a comment they made, but because it was the first time most of us had heard the name "Jeremy Clements". So, who is he?
At 29, Clements is in an odd place among his Nationwide Series compatriots. Most of his competitors are either much younger development drivers (at 26, Justin Allgaier is the oldest driver in the series that has a legitimate shot of breaking into the Sprint Cup Series) or older drivers returning to the Nationwide Series after losing Sprint Cup Series rides (Elliott Sadler, for example, is 37). Having grown up in Late Models, he's always worked with midpack to back of the pack teams, and he's seen little success in that time.
From the beginning of his consistent Nationwide Series career in 2007 to the end of 2010, he'd only seen one top 10 finish (10th at a sparsely populated Gateway Motorsports Park event most notable for the fact that half of the field wrecked). He never really caught anyone's eye, and he spent most of his time bouncing from small team to small team. In 2011, he moved to his own family owned team. He continued under the radar, but a 15th place result in the final championship standings was rather impressive given his team's complete lack of sponsorship.
2012, however, was his breakout. His first top 10 of the year came in Dover, where he was lucky enough to be one of just eight cars left on the lead lap after the caution came out during green flag stops in Dover. To the surprise of many, he didn't quickly drop after being given that chance, and despite falling a lap down he still held off Sam Hornish, Jr and Parker Kligerman to get a slightly higher profile top 10.
Later in the season, it was announced that he would be loaning his team's owner points out to Richard Childress Racing for Ty Dillon's use. For those two races, he drove for JD Motorsports, a small team with which he had previously worked, and in the second of those two starts, he created his career highlight when he again finished 10th. The difference? This time he did it while staying on the lead lap. Finally, people were taking notice.
From then until now, he hasn't done much of note at all. He parked his car early in Saturday's now infamous Nationwide Series race at Daytona, and he finally caught the eyes of everyone late last night with the news of his suspension.
So that is Jeremy Clements. A man of moderate talent, a record of three fairly good races in slow cars and, now, a high profile altercation with NASCAR's officiating arm. He's not exactly the highlight of the Nationwide Series, but he is the story today and for the foreseeable future.