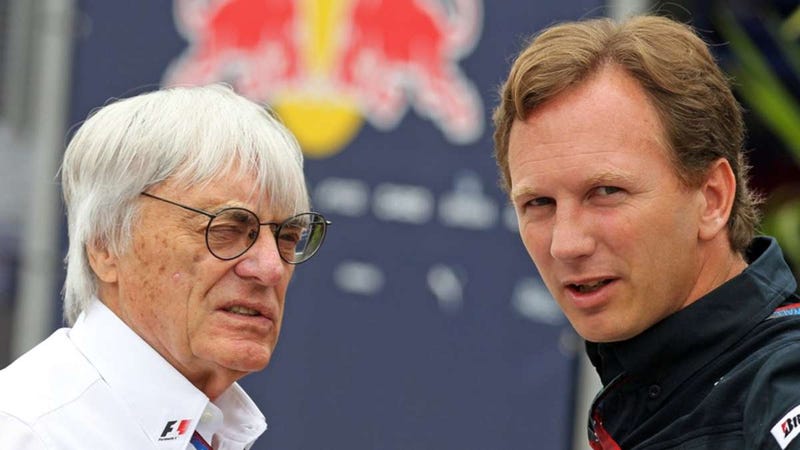 With Bernie aiming to get canned by CVC Capital Partners to due his recent bout with court (soon to re-flair), or die due to his recent account of age (83), rumors of replacement are in the air. Christian Horner is the man tipped for the job, but he has said before than he could not, and does not want to dance in Bernie's shoes.
However, Christian Horner's earlier position may have been a political move, as so many words are in Formula 1.
In a quote with BBC Sport, Christian Horner downplays his potential role and speaks out for Bernie Ecclestone:
I can't see how any one individual can replace Bernie. What he does is unique and it will be a sad day for the sport when he's no longer here.
Whether Bernie's corrupt nature is the reason for Christian's aversion to take his place, or just Christian's desire to work/rest elsewhere is running laps in Horner's head, I doubt we will ever know the absolute truth on the matter.
Bernie facilitates back-door-deals, and arguably has to. Don't tell me you are naive enough to believe under the table agreements stay clear of your favorite sport. These are things that happen in most countries that escape the first-world's grasp and even in some that are strangled by it: Brasil, Russia (Sochi), Mexico, South America, Bahrain, etc. They are the norm procedure in most third-world countries, and are accounted for by companies looking to expand their territory into those places.
If named new President and CEO of Formula 1, Christian Horner will have to choose whether or not to continue the corrupt path. This reduction in corruption could be for better or for worse; on one hand, races may be run on more hospitable soil, but on the other, F1 may have fewer races, and a shrunken world-wide impact.
Christian is unarguably one of the best team managers, but will those skills translate to running the worlds most prestigious form of motorsport? Bernie seems to think so when addressing BBC Sport:
Christian would be ideal. We could have a transitional period. It needs someone who knows the sport.

People deal with me because they know me. I have known them for a long time and they trust me. They know I am straight with them.

That is how it is with Christian. I hope we can do it.
Bernie Ecclestone is also firm on the point that his replacement has to come from within Formula 1, something with which I greatly agree.
If someone comes in from the outside, a corporate type, I don't think I could work with them. They wouldn't last five minutes. I don't want anyone who is a corporate type.
I dearly hope that CVC will understand the sensitivity of Formula 1's structure, and not turn our beloved motor racing into a glorified IndyCar/NASCAR.
Is Christian Horner the right man for the job, or should someone else replace the aging Bernie Ecclestone?