Well I didn't think the thunk could have been all down to it but thunk it...I was wrong.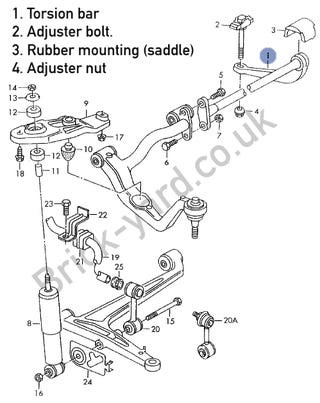 Upper shock bushes in the front end of the VW Transporter (shown as no.12). I'd be advised that the off side one was bad. After 250,000 km they probably had a right to be. Problem is that, of each pair, you can only see one as the other is on the other side of the carrier which is bolted into the subframe.
I figured they looked OK and left them alone. Changing them is not difficult but a pain. And then the front end started to sound off and bounce oddly. So why not grab some new upper bushes and replace them and see if I can figure out the coolant hoses while I was there?
Four simple rubber donuts. Blimey what a transformation! Like I said it's not a tricky job. Crack the wheel bolts, lift the front end, take the tension off the torsion bar (most tedious part because it involves turning a large nut multiple times), drop the upper shock carrier, undo upper shock bolt, remove everything from the shock and replace in the same order just with new bushes. Refit and away we go.
On both sides the upper most bush was completely rooted. Both were squashed, distorted and nearly cut in half like a bagel ready to be filled. Bottom ones were fine with only a bit of abrasion. Buggered if I know why...
Regardless the drive this morning was much much nicer...
And I somehow managed to figure this damned thing out too...
No idea how that happened...