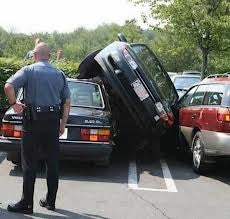 Alright, Oppo. Confession time.
I didn't drive at all until I was 16. The first car I drove was my dad's 1998 Saturn sedan, 4cyl with a 5-speed, in 2005. I was in my high school parking lot. I wasn't very good at it.
I didn't get my permit until I was 17. It expired twice before I got my license. Part of that was because I didn't get into Driver's Ed until almost a year after I got my permit, due to the prohibitive cost. (Close to $300)
By the time I did get my license, I already had one wreck under my belt. I'd rear-ended a parked car on a city street in my uncle's minivan. I made the turn too harshly, and froze in anxiety before I could stop.
By the time I took Driver's Ed, I passed everything in it with flying colors. (I'd even been excluded from the final written class exam due to such high scores on all the other tests. I had the knowledge, just not the actual skills)
When I took my driver's test, it took me a grand total of 8 tries to pass. That is embarrassing. The worst part is that every failure was on the parallel parking, the first section of the test (which Maryland, my state, is taking out of the test). I'd done all my practice in aforementioned minivan, but took the actual test in my mom's car at the time, an Oldsmobile Intrigue, much smaller and lower, and it threw off my perception. Not only that, I got my nerves out of whack from worrying too much. I felt so defeated, that I'd never be able to pass, never able to drive. It was awful.
I still clearly remember the day I finally did pass. It was in late July, 2009. I think almost 6 years to the day, coincidentally enough. It was a rainy day, muggy, dreary. I had just about given up, so I wasn't exactly confident in my abilities. However, something happened. I didn't overthink it for once. I got the parallel parking the first time around. I pulled back out. I did the three point turn effortlessly. I did the 100ft of reversing effortlessly as well. I drove back through the course, parked, put on the e-brake, and shut off the car. I passed! I don't know what it was, but I think I had just overthought everything so much, I just couldn't anymore, and I just didn't care.
So, I got my license. Another month or so, I finally saved up enough to get insurance. I was added to my mom's policy, as they didn't think I needed my own personal insurance policy just yet. This was late August. I loved driving, even though I didn't get to do it much. It was frightening at first, but I got more comfortable.
About three weeks after getting my insurance, I was on my way to work, running late. I'm on the road right before I turn to go into my building, and I'm going way too fast, and this is in my mom's Intrigue, so it had some decent power, and I try to take the turn at 60mph, at a nearly 90 degree angle.
CRUNCH!!!
No... no, no, no! There's a pop in my face. Fog everywhere. A musty smell. I look and see the deflated airbags. The car is leaning to one side, but is upright. The engine is off somehow, but the radio is still playing. I still remember hearing, "At the motel, hotel, Holiday Inn!" by Pitbull. I still can't listen to that song without replaying the whole event. I'm literally staring at my workplace 10 feet ahead. I see my co-workers looking out the window. They had heard the whole thing. I get out of the car. One wheel is completely tucked under the car with suspension bits strewn about all over the place, as well as oil spillage. I'd torn the oil pan completely off. I look at my surroundings, and I'm up on one of those high curbs. I take a minute to completely emotionally break down, call my mom, and let her know what happened. I call the police. They come out and survey everything. He apparently felt bad for me, so he didn't ticket me or cite me, or anything like that. I ended up going to work the rest of my shift to try to get my mind off the whole thing.
Miracurously, I didn't have a bit of soreness, stiffness, pain, or any bruises, scratches, or wounds of any kind. I escaped completely unscathed somehow.
I didn't get behind the wheel of a car for another nine months after that. The insurance was dropped on the Oldsmobile, and no claim was filed. No point, as it only had liability, and it was a 10 year old car with almost 180k miles on it. It would've been totaled. We just turned in the tags and scrapped the body.
So, for the next 9 months, I hitched rides or took public transport. I got pretty depressed. I knew I needed to be driving again. I had to get back up on that horse, despite what anyone else said about my driving ability, or lack thereof. I knew that my mistake, my serious screw-up would make me a better driver. I should've taken the time to begin with, to get more practice in, and get more comfortable, but that's hindsight.

I was in college part time, and not doing so well, and working part time. I decided to go car shopping in May of 2010. I knew I'd need my own insurance as well. I wasn't going back on anybody else's.
I looked and looked and searched up and down, until I saw it. It sat in a dealer lot, staring at me. All black. I knew that symbol. Infiniti. J30. There was a price sticker on it. $3,000. It looked great. All black. All black. Black metal, black seats, black dash. The seats were heated! Analog clock. $3,000? How can I get it?
I asked the dealer. No credit check. $1,000 down. $200 per month, for 10 months. I have to carry full coverage insurance on the car. How am I going to come up with $1,000 before the car is gone? I was making a decent sum of $9.63 per hour, at maybe 28 hours per week at that time. But, I was paying for college, and a phone bill. How was I going to come up with an extra $1,000 just like that? I made an arrangement with the dealer, in writing, that I pay the down payment in two installments of $500, upon guarantee that he holds the car for me, and gets it Maryland inspected. (The dealer was a tiny one located in West Virginia). It would take about a month. I made arrangements with my cellphone carrier that I'd be late on a couple bills, but I would get it paid. No big deal. Insurance required a $300 down payment due to my age, and the car, but my mom was nice enough to pay that for me.
I worked my butt off to get that money. And I did. $1,000 got me the clean title, the car, and all MVA/DMV fees paid for. I would pay the $200 a month, plus insurance. Ouch, the insurance.
$240 a month! Full coverage, but man. The car also had a warranty. 30 days/1,000 miles. Just your basic lot warranty, but still.
That full coverage insurance would definitely come in handy though...
My lord, that car was a beauty though. A polarizing design, but I personally loved it. I believe these photos were taken the day I took it home.
I personalized the car a small amount. I put a stick-on digital clock on the dash, as there was only an analog clock. I got a tape adapter to put in the tape deck, so I could play music from my phone, and I got a mount to put my phone on the windshield. I also put an Apple sticker on the bumper, (I had an iPhone at the time) as well as some tribal windshield decal. There was also a Tapout sticker on the rear windshield.
I loved this thing so much. It was RWD, it had a pretty punchy V6, and it rode in great comfort. It did indeed take me out of my depression.
In September, I met a girl. We went on our first date in this car. I took her out of town in it. Lots of things happened in it. We ended up dating.
In November, we ended up cruising down to Baltimore, along with her cousin, for a couple day vacation, and time away from stressful things in life. The car made the trip down (three hours one way) admirably, as well as inner city driving.
On the way back though, disaster struck. About halfway home, I'm on the freeway, driving along, going a bit too fast, and not thinking about it, and I hear a pop. All of a sudden, I'm spinning.
SMASH! CRUNCH! SMASH! POP!
My tire had blown out. I was spinning. At highway speeds, in a RWD car, I couldn't regain control. I hit into the concrete median barrier. I'm sent spinning more. I hit the median again, with enough force to push me across three lanes into the guardrail. I hit it, and finally come to a stop. That familiar airbag sound, smell, and fog penetrates the cabin. I'm freaking out. I have two passengers in the car. I just made contact three different times with outside objects, at a high rate of speed. I call for their names. Thankfully, they both answer clearly. They both end up hurting their knees a bit, and the girl I'm dating smashed her mouth and chin a bit on the dash, but overall they're ok. A bit of pain to be sure, but nothing very serious. Me? Again, not a cut, not a scratch, bruise, or any indication that I had just wrecked.
So, we call our families, let them know we're alright, for the most part. My mom and stepdad get in a rush to come get us. They make the 75-80 mile trip in less than an hour. I talk to the police. No ticket or anything, but an accident will have to be reported. Get a tow truck, and the rudest tow truck driver I've ever dealt with. The car is hauled away, but my stepdad gets all my stuff out of it some time after. I report the accident to insurance. Since I had full coverage, it's all taken care of. Estimator looks at the car, valued at $3,600. After everything is taken care of, the car is paid off, and I get back about $1,000. No medical treatment was required, thankfully.
There was no saving that. Not a chance.
The car is but a memory, but I learned to be extra careful with RWD vehicles, as they handle differently, completely.
As for the girl? We're still together, almost 5 years later, with a three year old daughter. Anybody that sticks with you after a catastrophic accident less than two months into a relationship is a keeper for sure. I still feel guilty about the accident all the time, that I could've done better. I could've prevented the wreck, or at least kept it in control better.
But, I have learned being a bad driver can make you a good driver, if you pay attention what caused the accident, and if it was your fault, you take it to heart, and improve, and don't make those mistakes again.
Some people are inherently bad drivers, and simply cannot, or will not learn, but for the rest of us, there's always room for improvement.
So, if you're not a very good driver, don't let that get you down. Keep in mind, in less than a year, I totaled two cars. I have had little minor accidents since, but I am much more aware, and much more careful on the road, and I can drive much better now. I don't get the nervous fits. I don't overthink. The only time I really struggle is when I'm in a large, congested city. However, I have been able to navigate through Baltimore and Pittsburgh with minimal trouble at this point.
So yeah, if you're not so great at it now, don't sweat it. There is always room for improvement. Just never be out and out stupid on the road. I take pride in the fact that I've never drank and driven before, so none of my incidents were alcohol related. Don't drink and drive. Just pay attention and you'll be fine.