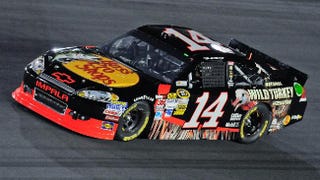 It's no new news that Bernie has been trying to get a new race slot in the US of A. Lack of funds and other nuts and bolts haven't fallen into place yet. But with the possibility that Nascar's HAAS could join the sport with a big budget, if I where Bernie, I'd front part of the team, in an effort to ramp up and recover my investment (plus some extra "interest") via F1 and/or a new US circuit.
Visual representation of Bernie during negotiations.
In all honesty, I do not follow Nascar, so I do not know how great of a team HAAS is. But from what I hear HAAS Automation is a large CNC tool builder plus he already owns the Windshear wind tunnel facility in North Carolina, which has been previously used by F1 teams. Since Nascar is all about sponsorship, they [HAAS] could surely score some lucrative and massive sponsorships as they are an already existing and running team. Couple that with the increase in media hype and TV coverage and it's a winning situation for the sport. Plus I'd love to see two other worthy pilots racing in F1. Although I wouldn't mind either if one seat was locked up with some american pay-driver (due to sponsorship or media hypeness) at least while the team solidifies itself.
"Its'-a-me, Mario;" which definitely the sport could use another American Champion.
It certainly is a long shot and we already know that it's no easy task entering such a competitive and technologically demanding sport and expect to win or make the podium or the midfield within the first few years (look at Toyota, Honda as examples). But American ingenuity, technology & money could sure do it. I'm sure there are plenty of possible parts sponsors and engineering companies that would love the challenge and publicity (Elon Musk, I'm looking at you with a TESLA ERS though that Formula E-series is maybe better for the company as a whole).
Lets take the battles back to the track, not the courts. My thoughts of the F150 name saga.
Although Cosworth is still in F1, I'd rather see HASS eventually ditch the Ferrari engine they could be using and maybe equip their cars with a Ford Eco-Boost engine (or at least the GM variant since they seem to run with Chevy engines in Nasacar). Imagine the Ferrari-Ford LeMans rivalry reborn in F1. As is the case with Ferrari's reborn LeMans interest, this could also set up Ford to run a similar engine/program as well. Marketing wise, that could be money well spent. After all, doesn't Chevy advertise the hell out the Corvette's LeMans dominance?
Sure I'm going on a limb here, but with Bernie's golden heart and big coffers one never knows. After all he is trying to safe the ring; and he was also an instrumental figure in the creation of the Circuit of the Americas.
For more random thoughts, you may follow me on twitter @Menebrio