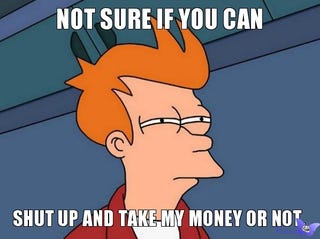 Twice in the last few days, I have reached online out to some business/service provider and requested either a quote, or to set up some sort of meeting to discuss me giving them money in exchange for something they say they do. None of them responded. What's up with that? Do they have so much business they don't need more? Doubtful. Or do they just hire lazy people to read their emails? This applies to car purchases as well, I'm amazed at the number of dealerships and salespeople who will only do business in person or over the phone. I value my time and love it when someone will engage in a meaningful back and forth over email.
My best car purchases were a 2007 Infiniti, where I had (2) trades and did the entire deal virtually (showed up and signed and left) and my most recent EcoBoost purchases ('14 Focus ST and '14 Fusion SE) where I was able to negotiate, locate the right cars and value the trade(s) mostly over email. That means NOT sitting in the dealership for 6 hours and I like that.
Anyone else find that it's hard to do business online with some places?