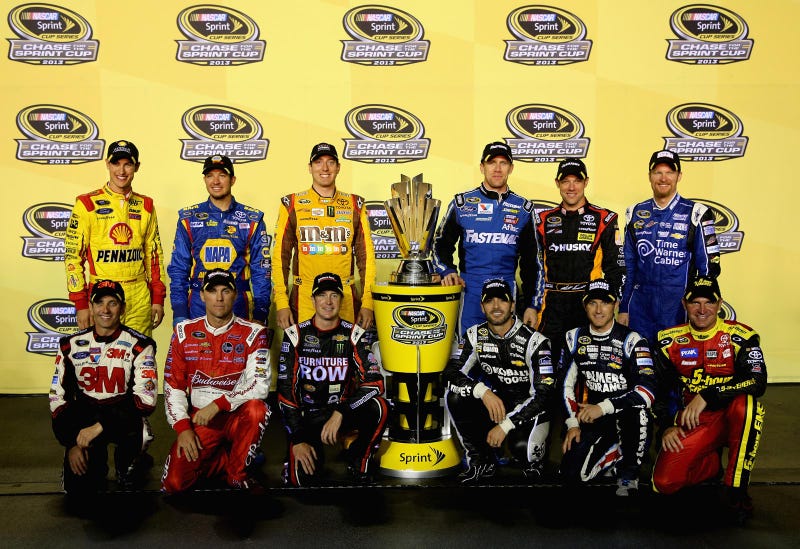 The dust has settled, the controversy is seemingly over and alleged wrongs were righted. NASCAR is officially in the Chase! If you're a casual fan and have been hearing all the hubbub about NASCAR this week and decided to tune into the Chicagoland race, you may be wondering why there's so many cars on the track if this is a "playoff". Well I'll give you a quick answer: Because 43 cars means more money.
Richmond was a PR nightmare for NASCAR (or was it? I can't remember the last time so many people talked about it) and they made a bunch of knee-jerk decisions. But apparently while they're perfectly content adding a 13th driver to the 12 driver Chase, they didn't think it prudent to get rid of the other drivers and make this race a proper playoff. I shouldn't have to ask the question, but what's the point of driving the last 10 races if there is nothing to be gained in the standings? Sure there is a paycheck, but even if you win the race, will anyone truly care?
The push for a "post-season only" post-season might not be an extremely popular one (much like my stance on Cup drivers racing Nationwide) but at least it can logically make a lot of sense. Cautions and restarts are products of crashes. Drivers like to "luck" out by getting a free pit or make up a lost lap during a caution and when there is an extended stretch of racing without a caution everyone gets a tad bit nervous. But what if drivers didn't have to worry about all those cautions? Most cautions occur in the back of the pack where the cars begin to bunch up and bottleneck, we know that drivers will spin to help their teammate (evident last week) and we know that restarts can change the entire complexion of the race.
I'm not saying that having only the Chase drivers would eliminate cautions, cautions occur because racing is inherently dangerous and frankly, difficult. But it give us, the spectator, much better driving. Long passes, every driver jawing for a position here and a lead lap there. I know I'm waxing romantic about such a situation but if NASCAR continually wants to call the Cup the best racing series in the world something has got to give. It's not as if NASCAR will forgo competition cautions to let the teams check the tires and refuel, there is too much at stake to risk consistent green flag pit stops. But it would definitely cut down on the unnecessary crashes and worse, a lap car knocking out a Chase car from the race.
In a way the final 10 races are a rather cruel way to remind the Non-Chase drivers of their shortcomings over the course of the season. Especially to someone like Martin Truex, Jr. who had tasted the fun and excitement of getting into the chase Saturday night only to have it yanked from him Monday and is still expected to race this week and give it his all. I feel for him if only on a purely human level. I'd be hard pressed to try and give anyone in that situation a pep talk leading up to this race: "Sorry your teammate and NASCAR screwed you? Better luck next year?" I think a cold beer and a Lazy-Boy would be a much more therapeutic approach, but then again I don't have Sunoco Race fuel coursing through my veins.
UPDATE: I guess it wasn't apparent that I'm not a huge supporter of the Chase. I like the idea of some sort of shuffle, but not this. In my eyes after 25 races the points should be restructured just like they are, but instead of a "Chase" everyone can still technically win the Cup. This is appealing to me because it guards against complacency by the driver in the lead and it gives the drivers not in the Chase a reason to drive and more drivers a legitimate shot at winning it instead of a hard and fast cut off.