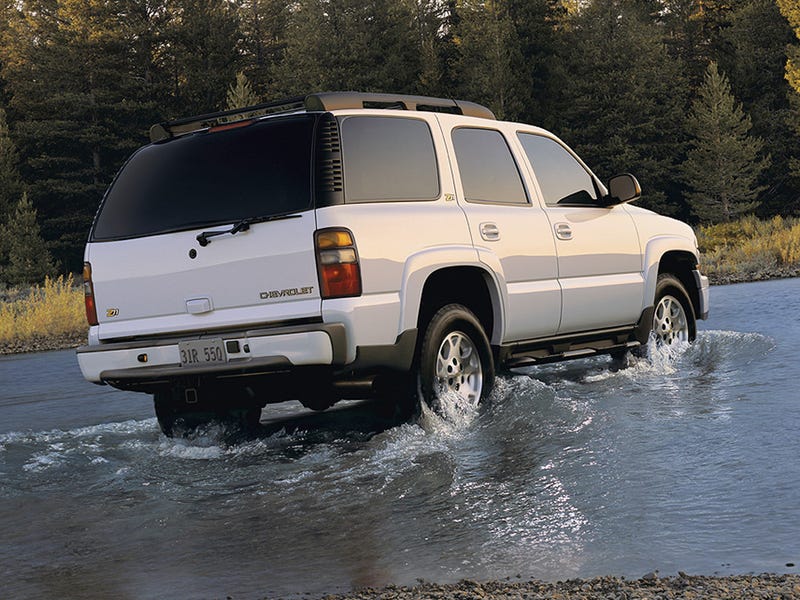 So I've been on the hunt for a 2001-2005 Tahoe with 4WD, 3rd row seats (even this could be an option since you can add them later for a few hundred bux), less than 200K miles, and not a complete mess. I see Tahoes all over the road and did not think it would be so difficult. Turns out they are all 2WD.
The few 4WD ones out there either have a bro-lift, 22" wheels (Seriously?! On a 4x4?! Though I could probably sell them for good money and buy some stockers for cheap), or super high mileage. The very few I actually look at have been complete shit shows.
Saturday I go see a lovely 2003 example with everything I want, plus more (Z71 package and nice offroad tires, squeee!). The dealer that has it is about 40 miles away so I call ahead and make sure they still have it. When I get there, turns out it's not for sale and going to auction. I'm quite pissed, since they not only listed it on Autotrader, but then told me they had it for sale. I'm fuming and not making a fuss since my kids are there, but the nice sales lady (who had nothing to do with posting it or telling me it was there) talked to the GM and explained the situation. It was a trade that needed some work and since it was a low-dollar car, they decided to put it up for auction. Since they f'd up multiple times and I just drove 35 minutes because of it, they were willing to look into what was needed and offer me the truck if it passes smog.
Sweet. I really liked the truck, and it would have a full once-over from a GMC dealer, so great. Problem was, service was closed for the rest of the weekend so I'd have to wait until Monday. I do so and get a call Monday afternoon that they found a lot to do (rear main seal, front shocks, rear rotors, front pads, etc, etc) but they were going to check smog tomorrow and if it passes, they'd do all the work and sell me the truck for the agreed price. Tuesday morning get the call that it needs a new cat and it's going to auction. No deal.
Bummed, I continued the hunt, today finding a 2005 LT. Looked nice in the photos. Not so much in person. I have no idea what type of life this truck had before it got to this place, but it was not good. The paint looked like it had been written on by a 3-year-old with a stick (Seriously. It even said "Kyle" on the back). The interior was falling apart: needed almost every seat reupholstered, the headliner was falling down, interior lights were missing in places, and the tabs were broken on one of the door panels. They wanted $8K... I said I wouldn't even take it for $4K. Moving on then...
So after a conversation with my wife (who has been along on these trips), we sat down and scoured the interwebs for more Tahoes to look at. First moved our price range up from $10K to $12K...not much better selection... then to $16K... still nothing great...then to $20K...okay that's a lot, but now we're finding some clean, lower mileage examples. This also makes what was going to be our third vehicle, the most expensive one.
We've been on a downsizing kick recently, and happy to do it, not out of necessity, but because we liked the cheaper options better. The 2011 XC90 made way for a smaller, more economical 2003 325iT. The 2008 535i went away and was replaced with a smaller, way less economical, but much cheaper, 2003 M5. The Tahoe purchase was now going to buck the trend...hard. Good news is, spending that much on a truck will make me drive it and not let it sit until I need to tow or go to Home Depot. I will daily drive it, giving the M5 some much deserved garage time.
So tomorrow I go look at a 2007 LTZ with 91K. Fingers crossed that some kid hasn't shit in the back seat.