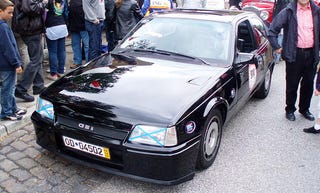 See, this is a unicorn. The Artz Cordette, a widened and elongated Opel Kadett E GSI body sculpted over a Corvette C5 chassis. There is only one, and you were lucky to ever see it if that actually happened. Most of us only know of it because of the internet.
This was my stepdad's weirdly specced E61 after he took a corner a little too close in an underground parking garage because he is a workaholic, and was just not at his best that morning after having barely slept.
All the gizmos, with nothing to make it look or feel like a BMW. Base grey cloth seats that stain easily, trim piece delete option (you could get different woods, bamboo, carbon, aluminum....) so grey plastic pieces which look worse than the stuff in an '02 Dodge Avenger, but HUD, active steering, the Webasto auxilliary heater, rain sensing wipers. radar cruise, full HID, heated sports seats, Nav professional, Logic 7 sound, and more...
If you break that down, it's probably a rare spec, but that makes it only a poor choice by the original owner and nothing special. Same goes for the pre-LCI/LCI transition cars with old door cards but LED tail lights etc.
It's still a fucking Bangle 5er!!!! They made tons of them, just because someone didn't understand the German a la carte system (my parents' neighbour has a MK VII Golf with no radio), or used it to their advantage doesn't make it special, just weird.
So why don't we just use unicorn for one-offs and weirdo/rare for those where you have to actually use numbers and specs and model years?