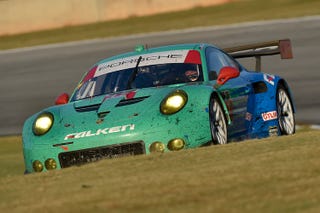 Over the past five years or so, sports car racing has provided some of the closest racing on the planet. It comes from the ranks of the GT classes. GT3 and GTE. In America we know of these classes as GTD or GT/GTA (IMSA and PWC, respectively) and GTLM. As one of the most competitive forms of motorsport, it's also one that changes most often. Balance of Performance, driver line ups, strategy, regulation changes and what not. For both factory and privateer teams alike, this is an expensive gig.

The end result of this? Teams come and go fairly often. As such, it's hard to want to become attached to a team, because you know they may not be back the next year. But some of these teams are really close to their fans and make an effort to please them, and you end up becoming attached.
This year, two well known and well respected teams are closing their doors. Petit Le Mans marked the final race for the #17 Team Falken Tire Porsche 911 RSR. Falken Tire does an amazing job interacting with their fans on and off the track. In the paddock they were welcoming and on social media they're always hosting competitions. Sure, they're for a Falken liveried Hot Wheels car, but it's the thought that counts, damn it!
EDIT: Just remembered that Falken Tire has actually run liveries designed by people in Forza, including the 2013 Petit Le Mans GT class winner.

Today we also read that Marc VDS Racing is ending its GT program. Among the often serious race related posts on social media that many other teams make, there was Marc VDS, with something silly, usually about Markus Paltalla.

While I'm sure many of us end up becoming a fan of all the teams on a grid, there's no denying it's always sad to see one go. This is probably something Corvette Racing fans know whenever they lose a rival, like Flying Lizards or Viper.

I could end this with that Dr. Seuss line about smiling because it happened, I'll end on a different note. The spirit of racing and the spirit of teams past lives on in the drivers, crews, and fans of the sport.

So farewell Team Falken Tire Porsche and BMW Sport Trophy Team Marc VDS. And from the countless fans you've made happy, thank you.