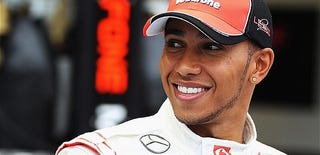 Great Britain is historically a nation that produces exceptional Formula 1 drivers. It's also a nation that fervently supports its drivers, especially if that driver has a chance at winning the World Championship. I grew up in that time where us Brits all got behind Damon Hill and cheered him to the 1996 title. Now in 2014, the majority of the nation is rooting for Lewis Hamilton to win his second Formula 1 World Championship, but it isn't the same as before.
Lewis Hamilton is pushing a very large amount of British fans away because unlike other British drivers that have gone before him, he is very hard to like as a human being. Numerous incidents have been pushing fans away from him for a few years now, such as when he publicly got upset with ex-teammate Jenson Button for 'un-following' him on twitter, even though he'd never followed him in the first place. He also leaked McLaren telemetry after being upset with his performance and the decision of his team to not run a new rear wing. The time when he threw the race card at the Monaco stewards, be it lighthearted or not, was just plain ridiculous.
There is also a feeling amongst many Formula 1 fans that Lewis Hamilton is perhaps not fulfilling the immense potential he first showed upon debut. He won only one World Championship whilst driving with McLaren, who had a title-contending car for practically the whole time he drove for them, and even the title was won with a large slice of luck at the final race in Brazil.
Many fans believe he should have achieved much more than he did whilst driving for them. Fingers have been pointed to off-track distractions, his often rocky relationship with singer Nicole Scherzinger, a deepening involvement in show business, and even rumours of issues with family members. Worse than all of this though, is his attitude.
We Brits like polite, modest drivers who keep their head down and keep going; keeping calm and carrying on, if you wish. Lewis Hamilton has absolutely failed to do this for the entirety of his career, and now public opinion on him is definitely waning. This weekend at the Monaco GP, he constantly complained and whined about various issues, despite having won several races on the bounce. The slightest of problems can upset him to the point where he accuses his own team of conspiring against him, as seen when Mercedes didn't call him into the pits when Adrian Sutil crashed.
As Toto Wolff later explained, the lead car has priority, and Hamilton will have been well aware of the team rules. The stewards also cleared his teammate of any wrong doing in qualifying and that should have been the end of it, yet he immaturely ignored him on the podium, thus showing how he fails to get over such problems. He also became the only driver in history to get something in his eye from inside a sealed crash helmet, something which we struggled to hear the end of.
I'd really like to say I support my fellow Brit in chasing the World title, yet Lewis Hamilton has been so difficult to like as a person over the last few years that it's impossible for me. I'm tired of all the complaining and whining, and I'm tired of hearing about other things in his life. I don't care about his dog, his girlfriend, or his media obligations. I care about his attitude, his manners, and his determination to win the World Drivers Championship. Right now, I'm seeing a lot of immaturity and that is certainly not winning over the British public. It's pushing them away.
By Jonny Edge @ Road Magazine