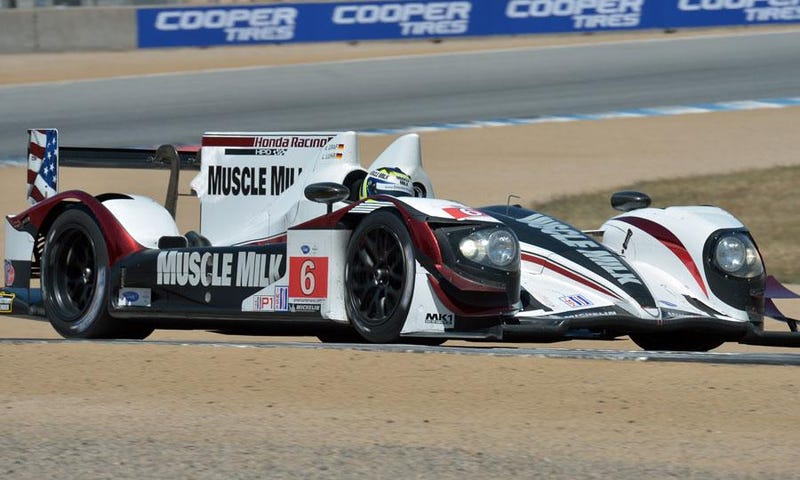 The new United SportsCar Championship will kick off its inaugural season this weekend with the Rolex 24 at Daytona with a massive grid of 61 cars, including 27 prototypes. However, as you probably know already, there will not be an LMP1 car among them. The elimination of the top prototype class has caused a lot of outcry from sports car fans since it was announced, and it is undeniably sad to see its death in North American series. But it's going to be okay.
So why did LMP1 have to go? Well, it makes a lot of sense actually.
First and foremost, the FIA World Endurance Championship creates a much friendlier environment for factory LMP1 teams. Manufacturers have massive budgets, but they are not infinite, and every dollar counts. Therefore, it makes financial sense to pick one series to compete in, and that series will be the premier sports car series in the world.
Furthermore, the primary focus for factory LMP1 teams is winning at Le Mans. The rules and format of the WEC allows teams to test their cars and strategies in an environment similar to that of Le Mans, which is very valuable for manufacturers. This is something that is not offered by USCC, where only four races can be considered true endurance races.
Additionally, it takes a lot of money to run an LMP1 team. The cars are very expensive to buy, maintain, configure, and run. They require a massive team behind the race car. The privateer team Pickett Racing had a budget of $5-6 Million for last year's ALMS Season, which is on par with Indy Car teams. It's for that reason that the ALMS P1 class had only three full season participants last year, including the DeltaWing. The cost of running an LMP1 program was too high for privateers, and the field suffered for it. A small field does not lead to exciting racing.
Finally, America is not alone in this. Neither the European Le Mans Series nor the Asian Le Mans Series have LMP1 fields, as they have experienced the same issues in attracting teams financially capable of LMP1 programs. The two series have settled with a similar program to what we have in USCC, with a field of LMP2 cars, an LMP Challenge class, and a GTE Class. The Asian series also has a GT3/GT300 derived class similar to the USCC GTD class. But one thing stands: LMP1 now only really exists within the WEC.
I believe this is actually a blessing for the sport. Sure, we don't get to see these marvelous works of engineering up close anymore, but the WEC is helping to encourage the growth of manufacturers participating in LMP1, as it should be. Porsche has joined the field for 2014, and Nissan recently said they are fully committed to a WEC entry for 2015.
Additionally, I think the elimination of LMP1 will be good for the USCC as well. It means that each race will have a much larger field competing for overall victory, which will lead to some exciting and unique racing. Yes, it is sad that the P1 class is gone, but was dying for a long time. Its death will help the growth of the current Prototype class, which has arguably already begun. As Bob Dylan said, the times they are a changin', and I am excited to see what's next.
The Rolex 24 starts this Saturday at 2PM on Fox. More viewing details can be found here at Racer.
For more updates about racing and other thoughts, feel free to follow me on the Twitter at @willkinton247. If you want me to look into a particular series or topic, or have any feedback, let me know!
Photo Cred: Autoweek