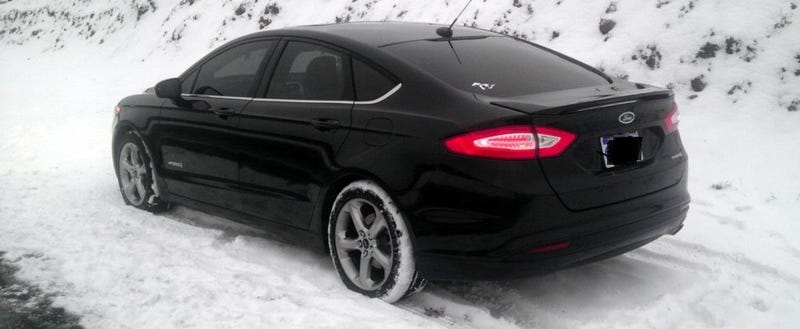 Some people are fans of the Ford Fusion. But many, many more people are NOT fans of the Ford Fusion. This 2015 tongue-in-cheek car "review" is for those in the latter group.
Full Disclosure: I was a fan of the Ford Fusion before I drove it to work today
A little bit of background: For those of you know who don't know Detroit is currently dealing with the aftermath of it's worst snow storm in 40 years, third worst in recorded history. This weather has exposed some glaring faults in my own car, so now my DD is clearly and squarely in the sights of Why Your Car Sucks. Now this trusty and reliable Mid-size family sedan may have only 175 horsepower, but it has a whole lot of suck.
My Car: 2014 Ford Fusion SE 2.5l Sport Appearance Package
My 2014 Model Year Vital Stats: 175 Horsepower in the form of a carry over, completely unrefined 2.5l I4. 6 speed manual Auto. 235 series tires on 18 inch wheels.
My Engine: so the Fusion has a 2.5l 4 Cylinder which is a bored and stroked version of the 2.3l Mazda MZR engine which has been around since Jesus left Baltimore. It lacks the fancy twin scroll turbo of the Ecoboost Model. The direct injection of most modern 4's and it is generally about refined as an ox cart. It puts out a 175 horsepower, which to be honest is entirely adequate for the purpose of this car. Same numbers, and same explanation for the torques. It is however, loud, and vibrates in all the wrong ways. but it does share its lineage with the engine found in the BAC mono, so thats something, which could be why at WOT it sounds better than most 4's.
My Aesthetics Recipe: Currently, it looks just like a normal fusion, however covered in salt, ice, and snow. Boots and blanket in the back seat in case i got stuck, or wanted a picnic. Like lots of cars that I think are good looking at launch, the Fusion's aesthetics are wearing on me. I mean Ford's blatant copy of the Aston grille looked cool on one model, but now as it expands from the Fiesta to the Transit. I think the boys (and girls) in Dearborn needs to come up with something different for the refresh.
What's new that sucks: My windshield cracked this winter, so that's new I suppose.
What has always sucked: The Goodyear Eagle LS-2 equipped by Ford on 18 inch "sport 5 spoke" wheels are the single worst tire I have ever had the displeasure of driving on. stab the gas about 50% on dry pavement and they will deliver a righteous squawk, even the cheap Falken 225/60/15's on my Monte Carlo are able to generate more stick with twice the torque being applied, and that's just on Dry pavement.
Ford should not be allowed to bolt these damned tires to a car in the snowbelt. Save your "hurr-durr buy winter tires" nonsense. Every single All-season tired I have used in the past have been generally serviceable in the winter. Not great when the plows arent out, but certainly at least "safe" at slower speeds when the roads have been salted and plowed.
That being said, if the drive isn't shoveled, or the road isn't plowed, this fucker will get stuck on a booger. The selectrack traction control is laughable. it will lock the wheel with traction and let the other spin out of control. limited slip diffs should be mandatory in all cars shipped to the snowy parts of this country. To get it up the slightly snowy drive, turn off traction control and bury the pedal in the carpet, after much smoke, squealing and error messages on the driver information screen the car managed to go up the slight incline and back into the drive.
On the road these LS-2's manage to provide enough forward grip to allow the car to move after spinning for a few seconds at even the slightest throttle application, but then at speed turn into skis that simply glide over the snow. Again, Ford's fault for fitting a 235 series tire to a lightweight family sedan. Seriously Yamahog's CTS-V loaner is better in the snow than this claptrap.
What might not suck: When I turn this turd in for my lease, pay the mileage overage charge and get a used first gen CTS-V instead.