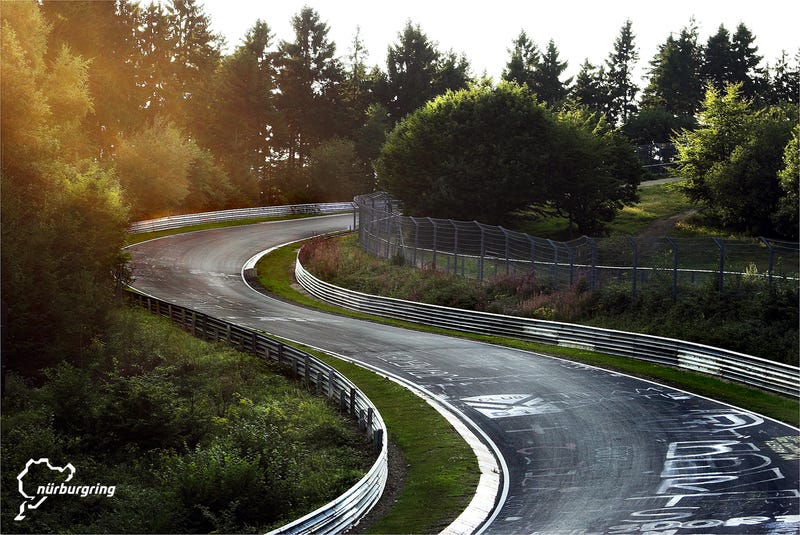 For automakers, the Nurburgring has become the primal estate to test the performance of their upcoming release, but some feel this has spiraled into a pissing contest through lack of regulation of what justifies a 'fair lap'. With Formula 1 boiling down to a European version of IndyCar through the FIA's iron fist of regulation and the production car top speed race dominated by exorbitant horsepower that no buyer rich enough to afford a Bugatti Veyron can actually handle, let alone find a long enough straight to meet their maker, the Nurburgring has become the last benchmark for performance that is available to squabble over.
The top speed race is drawing to a close, as all of the established supercar manufactures have abandoned it in favor of the Nurburgring ethos: how fast can we lap a circuit? They realize that top speed can only do so much for sales, both in sheer marketing and how it affects the performance of the chassis. To achieve top speed, the gearbox requires longer gearing; this compromises how the car could respond at the low end of speed.
We're running out of frontiers and limits to break through due to the ever impending fear of death, not necessarily from the parties involved, but from the man; you know, the man. However this frontier has recently evolved against the man to the point of us consciously avoiding the law as part of our manifest destiny of speed.
Ed Bolian's recent trek from New York to Los Angeles is firm evidence of this change in what records we consider to be a breakthrough, or what we consider to be impressive. The type of record breaking journey that Ed found himself on has become increasingly more dangerous than any form of Motorsport due to the excessive speed though traffic his team drove without any sort of modern race-inspired protection; if they lost control, they died. Mercedes would love to claim this record for themselves, but they can't due to the legal quandary and moral expectations of buyers.
So that leaves the Nurburgring.
McLaren recently sent their P1 round in under 7 minutes, but are refraining from releasing the exact time, either for the fear of giving LaFerrari a benchmark or because they didn't beat Porsche's 918 which circled in 6 minutes and 57 seconds (most likely the former). This battle between the makers of today's hypercars is starting to throw more weight around than Formula 1, and is becoming even more exciting to watch.
The lack of regulation is a worry, and a simple fix would be hold automakers to running their production-spec car with no additions or reductions in bodywork/aero, but one would need some sort of legal body to hold these facts and figures.
But above all else, I hope all of you are enjoying this frontier before it is stripped from our eyes forever.