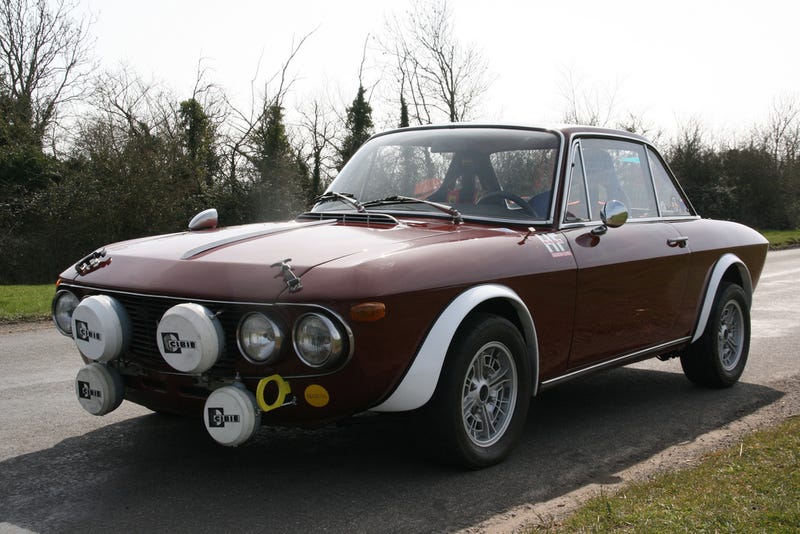 I happen to think that the Lancia Fulvia is the most beautiful car ever made and I tend to put my fingers in my ears and sing if people disagree with me. So with the styling of the car indisputable, the only thing I had left to do was answer the nagging question I've had in my mind; does it drive as good as it looks?
Thankfully, my buddy Jamie at Targa Florio Classics was willing to let me find out just what it was like to drive a Lancia Fulvia. He handed me the opportunity to drive the car above, a 1969 Series One Rallye, the very car I recently shared with you all in another article. It's not a standard Lancia Fulvia setup, having been modified with mechanical parts shared with it's sportier relation- the Fulvia HF, to provide a theatrical rally feel. Truth be told, Jamie can tell you about the mechanical ins and outs far better than I ever could, and as well as the details on the website, he'd be very happy to go into more detail with you personally. What I'm best at is telling you about my experience, and how this car really feels.
There is a sense of character and theatre surrounding the Lancia Fulvia that begins as soon as you set eyes on it. This one sat there in the dim light waiting for it's chance to go outside, that unmistakable Italian front end peering out from the back of the garage. On approach, there was a scent. Anybody over the age of 20 will recognize that scent. It was of oil and petrol, a scent that manufacturers have slowly sealed well within the sarcophagus-like refinement of the modern car. When that scent hit my nose, I was instantly taken back to my childhood. The origins of my love of cars.
You have to be a real enthusiast to appreciate what a powerful sensation that is. Then there is that remarkable Lancia Fulvia styling that seems to ooze such an effortless form of style from its simple yet elegant lines. As I've said before, it's all about the proportion and you are really absorbed into the character of the car when you are in its presence.
Having had a good look around whilst chatting with Jamie, I was now securely fastened to a Sparco race seat by an excellent Sabelt four-point harness, and the Lancia Fulvia was fired up. This one is louder than a standard Fulvia thanks to its racing side exit exhausts and the sounds, smells, and sensations were all coming through the car to reach me. It was time to take her on the road. As a driver less experienced with classic cars, the first thing you notice is just how alive everything is. You're suddenly greeted with far more sounds and vibrations than you are otherwise used to, and it seems every part of the car seems to be talking to you in some way.
Sensation in this car is everything, but it's not an uncomfortable experience. It's a simple matter of adjusting to the information being received. The accelerator pedal is incredibly sensitive, raring to go, and full of feel, whilst the brakes are uncertain and need far more time to be allowed to do their job. To change gear you throw a long gear lever into any of the four forward options that you have, and however quickly you try to change, you never feel like you've rushed the car. Then again, this isn't a car to rush in. Whatever speed you're doing, you're having infinitely more fun than you would be in a modern car.
It all feels very fast, yet you aren't going that fast. The theatrics of the V4 engine and the sporty exhaust make it all much more exciting than it would be at this speed in a modern car, but the real key is within the steering. Every little crack and crevice within the surface of the road is fed to your hands through the steering wheel, and given time I think I'd find it difficult to go back to anything else. After driving a Lancia Fulvia, you'll quickly become aware of just how numb a modern car really can be.
Let's summarize by considering this; you can own a classic 1960's Italian coupe with a terrific V4 engine and a solid track record of mechanical reliability for £12,000. Not only that, it's the most beautiful car in the world. A Lancia Fulvia equipped for rally can be converted into a daily driver by an expert without any difficulty whatsoever, and then you own something just as special as just about anything else found on the road today.
It isn't even that expensive to run, as a result of that small 1.3l engine and at this age is tax exempt. In the future, I'm hoping we can go back up to visit Targa Florio Classics and put some more of Jamie's wonderful classic Italian cars to the test, but whatever we may drive in the future, it's going to be incredibly hard to top this. At least now we finally know, the Lancia Fulvia drives just as good as it looks.
By Jonny Edge @ Road Magazine