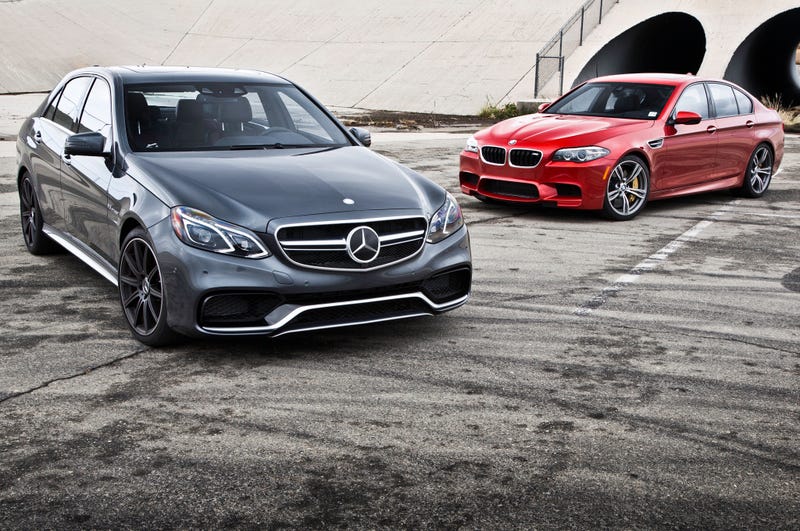 Back in the 1980s was when super-sedans started to take off. BMW had released the E28 M5, Mercedes-Benz had released the 190E Cosworth, and everything grew from there. They were the perfect package for those who had money to spend. They balanced sports car characteristics with luxury features. Wanted a car that can be a sports car and a luxury cruiser at the same time? The super-sedan was the answer.
Fast forward to today, where we now have the fifth generation M5, the F10, along with many other fast sedans. The same super-sedan principle applies. Big, powerful engine up front, rear or all wheel drive, and luxurious features inside. But has this luxury part of the super-sedan gone too far? For instance, all these luxurious features add up to quite a bit of weight. The original E28 weighted in at just over 3,100lbs. The new F10? Just under 4,300lbs. Handling has always been a strong point for the M5, but adding over 1000lbs detracts from that. Also, this is the first year the M5 has gone to an electronic steering system rather than hydraulic. This means the steering loses feel and is not as engaging to drive.
But at least you have tons of features and gadgets, right? Well, yes, however, has it reached the point where it's just too much? Heated steering wheel, power trunk, soft close doors. All these are available on the BMW F10. The BMW M5, along with it's rivals, the Mercedes E63, Cadillac CTS-V, and Audi S6/RS6, are becoming luxury cars, and losing their sporty heritage. Yes, they're still fast but not in the way they should be. These super-sedans are better cruising at 100MPH on the German Autobahn than taking a Sunday drive on a local backroad. I'm not saying these super-sedans are bad cars. Not at all. They are just swaying too far from what (In my opinion) they should be.
So what do you buy if you want sporty and luxury? You buy two cars. For the price of a super-sedan with some options you can get a supercharged F Type S and a mid range Audi A4. Or a Porsche Boxster S and a fully loaded C250. Sure, these cars don't offer as much luxury as a M5 or RS6, but when do you use a power tailgate or motorized rear sun shade? For me at least, all you need in a luxury car is comfort, a good sound system, and climate control. Wouldn't a sports car with all the benefits of a sports car and a luxury car with all the benifits of a luxury car be better than compromising and trying to combine them both? Again, I'm not saying they're bad cars, I just think there are better ways to get a sports car and a luxury car.
(Photos: Motortrend, Car and Driver, Motor Authority)