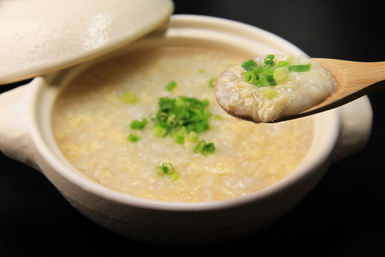 One of my favorite things that my mom makes after Thanksgiving, using the leftover dark turkey meat, is a humongous pot or two of juk. For those that aren't familiar with it, juk is a Korean rice porridge that also goes by congee, jook, okayu and many other names depending on the country. It's a staple throughout Asia, eaten any time of the day but frequently at breakfast. I personally like mine with a healthy serving of kimchi, another thing mom makes from scratch (my folks had to get a second, smaller, refrigerator in the kitchen because dad didn't like the kimchi and other similar things stinking up the main fridge).
Nobody in my family is Asian - we're just a collection of European mutts (German and Lithuanian on my dad's side, Ukranian and Polish on mom's) living in Southern California. Ever since I was a small child my mother has been studying and preparing all varieties of Asian cuisine, and has gotten quite proficient to the point where one of her instructors offered her a job as a chef at a new Vietnamese restaurant she was about to open; mom turned down the job because she likes to experiment whilst cooking and wouldn't be content cooking someone else's recipes day in and day out.
Anyway, a few years back I heard something on the news about Nissan unveiling some new breakthrough sporty crossover SUV thing to appeal to today's hip and trendy youts (yeah, whatever...) called the Juke. I didn't hear it as Juke, but instead as juk, and started to wonder why in the hell they would name a car after a delicious type of gruel. Oh, right, that's probably not what they had in mind...