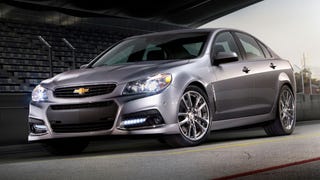 Ever since the GM Overlords decided to bring the Holden Commodore over from Aussie-Land as the Chevy SS, car enthusiasts have more or less thumbed their nose at it, with "MEH" being their battle cry. That MIGHT change soon.
It's only a rumor right now, but GM Authority is reporting that they've heard "mumblings" from Australians that are in the know that the 2017 Commodore, the final Commodore model of this platform that they'll make (RIP), could come with a 580 Horsepower 6.2 Liter LSA V8. This engine was last in the 2nd Generation Cadillac CTS-V here in the States. As you may know, the current Commodore Series II/Chevy SS comes with a 6.2 Liter LS3 V8, pushing out "only" 415 Horsepower. With a stick shift and Magnetic Ride Control (SERIOUSLY?! This is a "MEH" car to some of you?!?!).
The sources also state, most importantly, that this engine would also show up in the US-Spec Chevy SS. Here in the United States. For us 'Muricans to buy. And drive. With a 580 Horsepower engine. And maybe a stick.
Before some of you fine commenters scream "CLICKBAIT", this information is being presented as a possibility. A strong rumor. But it wouldn't be too far fetched for this to happen. After a price bump, Holden and Chevy could sell the hell out of this car. It might even change the opinions of some in the "Meh Militia".
No matter what you think, this car, if made, would be worth the money.