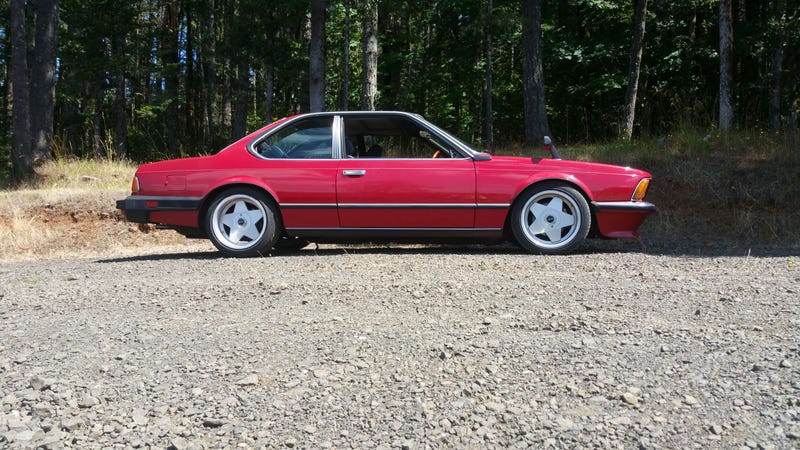 As some of you may have seen, I went and added a little JDM to my 635csi. I decided I would make a quick write-up detailing what you'd have to do to do this yourself. (No original body panels were harmed in the making of this write-up).
I started off with a rusty hood that came off of a friend's older 6 series that was about to be scrapped. Turns out, the earlier bodies were made by Karmann, and their rust proofing process left a bit to be desired to say the least.
First step was to remove all the rubber bits, as well as the latches and the insulation.
Next up, I scuffed the paint up with a paint stripping attachment for a drill. Now normally, with paint in this bad of shape, you'd want to sand it down much more. You'll see later that the finish didn't turn out great under close inspection, but that's okay with me as the paint I used on the hood is not 100% the same as the original paint color anyway. I suppose you could call it a "no-fucks-given" type of thing.
I decided to primer (and leave it) semi-matte black on the underside, which will make it easier to change colors should I ever decide to put it on another car.
Then, I marked and drilled the holes for the mirror. There's all sorts of decisions to be made here: How far up the hood (or fender) you want them, and what angle are the important ones to get right. The drilling is easy but undoing a poor hole is not, so I measured every mark to ensure correct placement 3 or 4 times. I also had to use some slightly longer bolts than what was provided.
A test fit.
Perfect.
Once I was certain that they were exactly where I wanted, I removed them again and cleaned up the surfaces of the holes that were drilled. Now, the mirrors came with a plate to put on the underside, but I opted to just use the bolts instead as the angle on the bottom of the hood where the holes are drilled would require you to cut cut a bit of the underside. No thank you. If they break off they're cheap to replace but it's been over a month now and they're still holding up just fine.
Luckily for me, there's a paint color (cherry red, I cannot recall the brand) which almost matches Zinnoberrot, or Cinnabar Red. After one coat:
I find its best to give it 3 light coats minimum with about 10 minutes in between before going with a full wet coat. This was the 4th coat and the first wet one:
One more and it's finished.
Not too bad for a rattle can if I say so myself, though up close you can see the imperfections left from not sanding the hood down quite enough.
Let it dry, mount your mirrors, and mount your hood. I had somebody adjust them for me the first time so that I could get the angle from the drivers seat easier. For some cars mounting them on the fenders would be ideal, but on this one I think the hood is wide enough for it to work out. Not too mention, buying one spare hood was cheaper than two spare fenders.
As for how functional they are, I'm surprised. To be entirely honest, I did this for the looks, yet now that I have them, I like the way they function better as well. They're obviously much easier to quickly glance at, since they're right in your field of vision, but the real advantage is that they all but eliminate blind spots. You can't view anything directly behind you, but that's what the in-cabin mirror is for.
Now you can add some mad-JDM-tyte-yo flare to your car. Slap on a rediculously long exhaust tip, and an external oil cooler, and really rustle some jimmies.