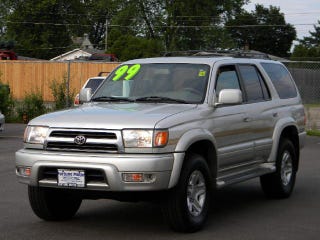 The last 4Runner I thought I was going to buy fell through. Twice when I called the guy, he asked me to call him back later. He didn't answer the third time, and then took down his craigslist post.
So now I put a $200 deposit down on this 4Runner at a dealer a couple hours away from me, so they won't sell it to anyone else until I get a chance to check it out on Saturday. '99 Limited, 156k miles, rear locker, fresh Bridgestone Dueler H/L Alenza tires (which I may or may not take to my local Discount Tire to have siped), supposedly recent timing belt/water pump replacement. They're asking $5995 but I'm hoping to pay more like $4200 if I can.
They also said they'll take off the weird brown pinstriping if I want. Which I assume means having their detailer hit it with a heat gun and peel it off. Because pinstripes = fail.
Interior looks really clean except for some wear on the driver's seat...
And a chunk of plastic missing from the back of the center console (but hey rear heat)
Engine bay seems clean...