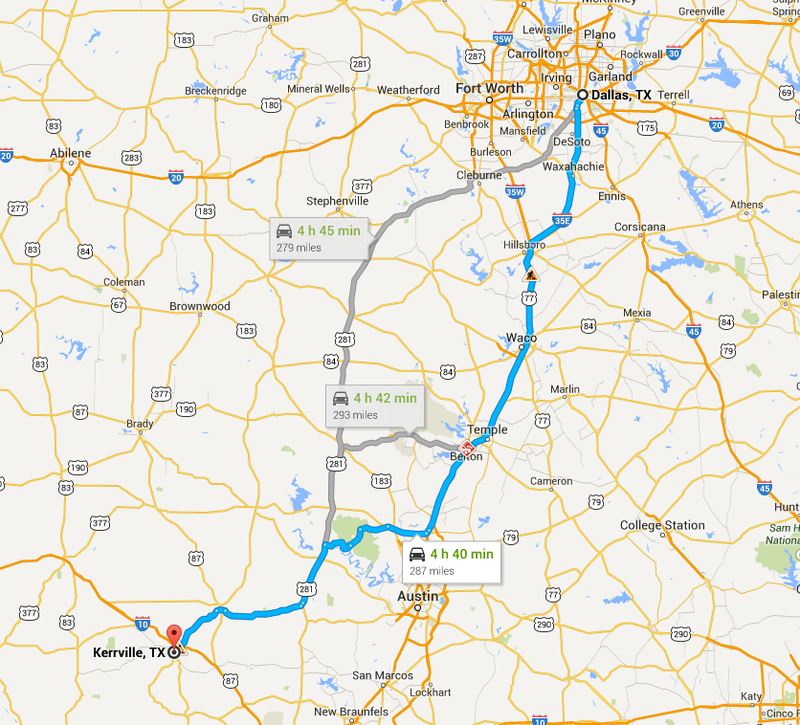 In about 17 hours, I will be making a 315 mile road trip from Dallas, TX to Kerrville, TX to join 100 of my closest air-cooled brothers (and sisters) at the annual Texas Hill Country Rallye. This will be the first time in nearly 4 years in owning "ze pumpkin" that I've taken a trip longer than my 30 minute commute to work or a friendly jaunt out to the monthly Cars & Coffee venue. I'd be lying if I said I wasn't nervous as hell about this trip...
(Note: I just heard about the big accident involving an 18-wheeler hitting a bridge beam under construction just north of Salado, so it looks like I'll be planning an alternate route tonight)
Now when you are planning on driving 700+ miles over a long weekend in a 46 year old car, you don't just jump in and drive off. That's a rookie mistake you don't want (or afford) to make. 10 months ago, I poured over the list of stuff I had to do in order to get my baby 'road-trip worthy'. That long list included: updated seats, new rear torsion bushings, tune-up engine with larger venturis in the carbs, address the lingering gas smell in the cabin, new updated engine insulation, purchasing a fire extinguisher, and have the shifter looked at for loose play. While all this may sound easy to have done in 2-3 months, when you work full-time, have two small kids with weekend activities and a busy freelance schedule, 10 months goes by pretty damn quick!
For time's sake, I'll spare you all the drama that led up to this moment, but pretty much everything on the to-do list was checked off and completed. Arguably the most important feature, new driver's seat, was completed 3 weeks ago. Neat, eh?
There's other things that are essential for a 5 hour road trip throughout Central Texas and Hill Country:
iPhone battery charger, sunscreen, sunglasses, driving shoes, bottled water/drink bag, bail money. Misc parts such as clutch cable, generator pulley belt, a few quarts of high-temp motor oil, fuses, spark plugs, distributor rotor. Tools like a full metric ratchet set (including elbow joints) with spark plug adapter, vise grip, duct tape (yes, you read that correctly), flat and philips head screwdriver, adjustable wrench, standard and needle nose pliers, cheater bar, torque wrench. And just to make "ze pumpkin" look purty at the car show Friday night, some car wash in a bottle, windex, paper towels/rags, and vinyl dressing/Armor All. The collapsible chair is for pit stops and naps after a carb heavy lunch.
Our departure out of Dallas before sunrise should be uneventful. By the time the morning commuters wake up and head out the door, we'll be somewhere in Central Texas before we jump off the freeway and zig-zag our way west. There's a quick stop in Fredericksburg for some BBQ lunch goodness before taking in the Museum of the Pacific War and heading to the hotel in Kerrville for much needed nap.
So if you would like to send good thoughts, karma, prayers, etc our way, we'd very much appreciate it. If you want to check out random pics of air-cooled goodness (and pics of BBQ), you can follow along with the unofficial hashtag on Instagram #hillcountryrallye.
(here's some pics from last year's HCR to get you all hot and bothered)