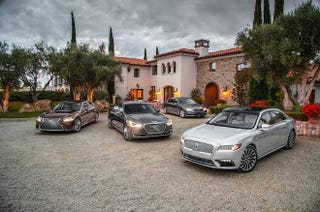 Here is my ultra basic quick check for determining what market a 2018 sedan/liftback is competing in. Just take the price and find the segment (pretty much size classification). With just two things, you'll have a basic way of telling whether it is a luxury car, premium car, value car and blah blah blah.
---
Premium Luxury | Luxury | Premium | Upmarket | Value
Entry (Subcompact)
$40k | $33k | $26k | $18k | $14k
Compact
1. $55k | $40k | $33k | $26k | $19k
*Specialty Compact
2. $66k | $55k | $42k | $31k | $22k
Executive (Midsize)
1. $79k | $55k | $42k | $33k | $24k
*Specialty Executive and Flagship (Fullsize)
2. $90k | $77k | $55k | $42k | $29k
Flagship (LWB Fullsize)
$116k | $90k | $72k | $55k | $33k
+Luxe | Luxe | Prm | +Mrkt | Value
---
Example 1: If you are buying a $22k Civic then you have a Value Compact, in fact it would be a Good Value Compact since it's close to the Upmarket benchmark ($26k).
Example 2: You want to know if the Acura RLX is a luxury car. At $55k the RLX would be a Premium Flagship right out of the gate. It would take $77k to make the RLX a solid luxury car at its current size. If it were smaller (Lincoln MKZ sized) then it would be a Luxury Executive Sedan at its current price.
This gets pretty intricate but if you want to pick a sedan/liftback and tell me the US price points then I'll define it by the benchmark pricing above.