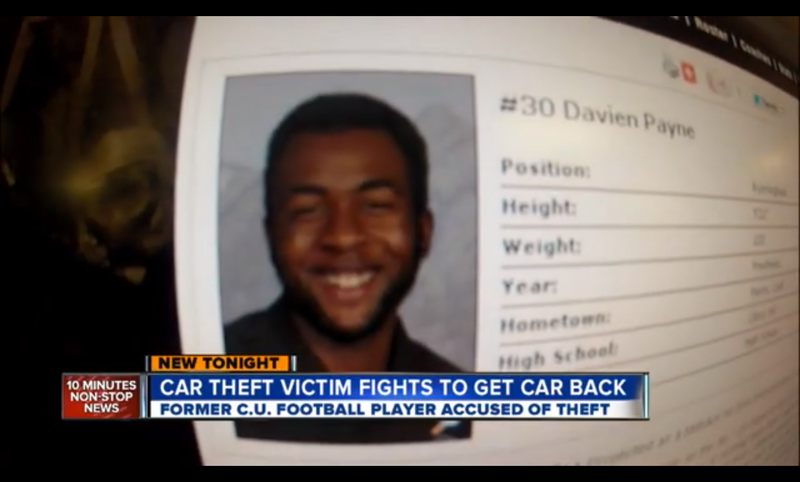 ABC 7 reports that Davien Payne, ex-University of Colorado running back, was arrested in the University Hill area this past weekend on suspicion of stealing a Boulder resident's black VW Jetta... when he later stopped to let her and her boyfriend cross the street as they were looking for the car.
Alex Walden, the Jetta's owner, and her boyfriend Ryan Tippetts originally thought that her car had been towed. They realized it had been stolen when they heard music playing from her phone, which had been tossed out of the car and was lying on the ground when they found it. Walden phoned the police to report the car as stolen, and they went out searching for the car. A few minutes later, they were about to cross the street when a car slowed to a stop to let them pass - the black Jetta, with a woman in the passenger's seat and Payne (who'd been dismissed from CU's football team back in the spring) behind the wheel.
'What are you doing?' I asked him, and he said, 'Uh, I'm trying to let you cross the street.' Cause he didn't put two-and-two together that I was the owner of the car he'd just stole," said Walden.
Payne began to drive away when Tippetts jumped into the passenger window and into the woman's lap, and he screamed at Tippetts to get out of the car and threatened him with "I'm going to shoot you, I'm going to shoot you. I'm going to kill you. Get out of my car."
Tippetts moved to the Jetta's center console and got his hands on the steering wheel and Payne's right hand, which he said allowed Payne to use his free hand to start "...wailing on me with punches. He got me like 20 times."
Payne eventually ran off on foot after stopping the car, and Tippetts recalled that Payne said he'd "...call the cops on me for stealing his car." Tippetts suffered a black eye as well as a broken larynx that needed surgery (which involved 4 titanium plates and 8 screws), and Payne was found by officers who'd tracked him down and found him hiding on another resident's property. He initially resisted arrest, pushing one officer and striking him in the face.
Payne testified that he was picked up by his friend in the black Jetta, while his friend said he'd come to pick her up after telling her that he had a car. An hour before that, Payne had encountered a police officer who was responding to another resident's report of someone attempting to open the doors of various cars along the street, but Payne wasn't in possession of any stolen property and was let go after an ID check. There was also a key in the stolen Jetta's ignition other than the one in Walden's possession, and Walden admitted that there may have been a spare chipped key inside the car although she was previously under the impression that there weren't any.
ABC 7 notes that Payne was charged with aggravated motor vehicle theft, second-degree assault, resisting arrest, obstruction of a peace officer and trespassing.