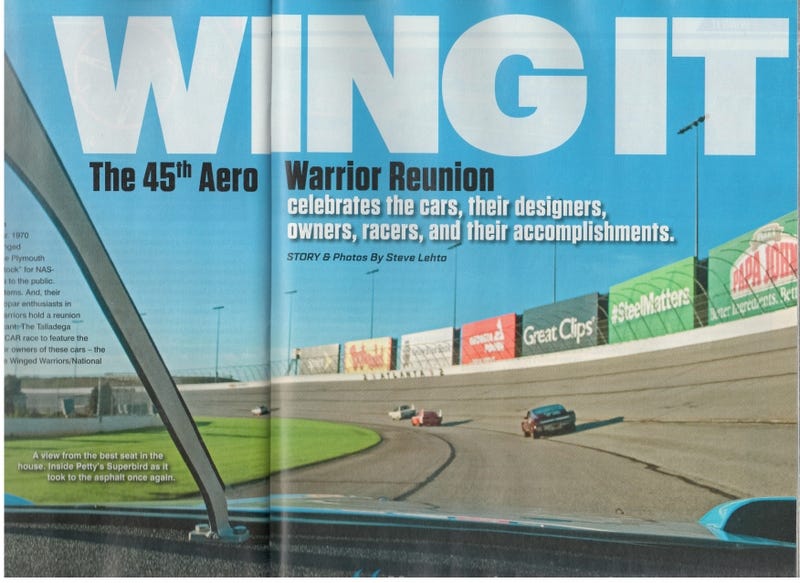 With all of this internet stuff, it's sometimes forgotten that words can be written elsewhere. With that in mind, an article I wrote about the winged car convention last year is in the most recent Mopar Action magazine.
I've mentioned before that I attended a reunion of winged cars this past October in Alabama. There, I got a ride in Richard Petty's Superbird, interviewed Charlie Glotzbach, and saw more winged cars than you could shake a stick at.
Of course, I have a book out about the cars as well but I never miss an opportunity to tell the world of these wonderful cars. So my good friends at Mopar Action agreed to publish a piece I wrote about the event. If you pass near a newsstand in the next month, look for the Mopar Action with the "Rare '71 Hemi GTX" on the cover. My story begins on page 74.
Follow me on Twitter: @stevelehto
Hear my podcast on iTunes: Lehto's Law
Steve Lehto has been practicing law for 24 years, almost exclusively in consumer protection and Michigan lemon law. He wrote The Lemon Law Bible and Chrysler's Turbine Car: The Rise and Fall of Detroit's Coolest Creation.
This website may supply general information about the law but it is for informational purposes only. This does not create an attorney-client relationship and is not meant to constitute legal advice, so the good news is we're not billing you by the hour for reading this. The bad news is that you shouldn't act upon any of the information without consulting a qualified professional attorney who will, probably, bill you by the hour.