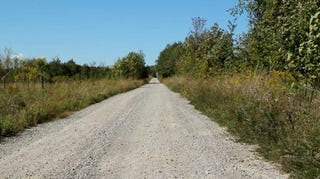 Two weeks from now, I have to travel to Toronto. Now this doesn't seem that bad, all things considered. But in fact, you would be wrong. That's because I'm not going to Toronto.
I'm going to someplace that is likely closer to this picture than the GTA could ever hope to be.
Now having been to Middle-Of-Nowhere, USA before, I can deal with it, but it's not that pleasant. Hotels generally do not have cookware and stoves for guests to use, so I have to eat out every night.
However, this isn't even like trying to get something to eat in, say, somewhere just beyond the 407 ETR (Markham, Richmond Hill, or Vaughan). This is well, a bit more spartan than that. I'm perusing Yelp and Google Maps to find something reasonable in the middle of nowhere, Ontario.
I also have no idea what my rental car will be, so it could be good (like last time, a Chrysler 300), or it could be bad (One trip to Montréal had me in a Kia Rio with a bad heater, in January)
Ugh.