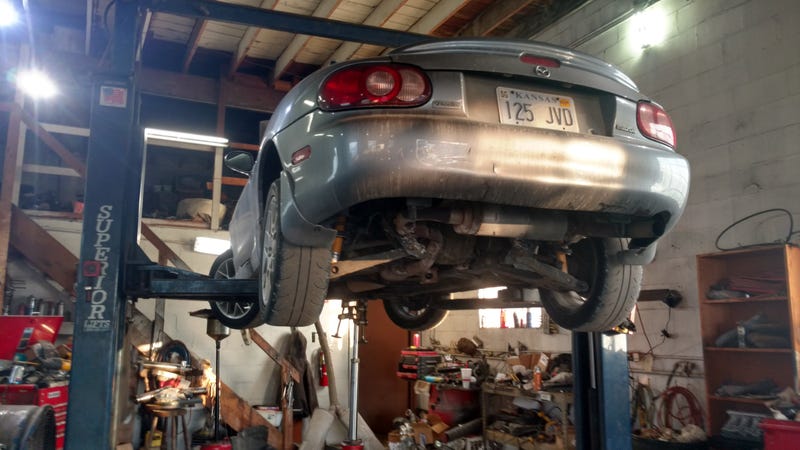 Lots of work done on the Miata last night. It was a fun time but first I had to get a small car onto a large lift.
DOES NOT FIT. Arms are too long to reach any jacking points.
Ended up just pulling forward more and using blocks of wood to lift the car midway on the rear arms. Meh. It worked.
How on earth does a sway bar walk sideways?
Behold the most adorable resonator.
Anyways. I'm here to replace my clutch. Step 1 is to remove the enormous front underbody chassis brace. Optional on NB2s, standard with the Special Editions, this has a similar effect to a Flyin' Miata butterfly brace and greatly stiffens the NB2 vs its NA brethren. It's also kind of heavy.
Next go to harbor freight for some ball and socket impact swivels and use a bunch of extensions and bullshit to get the world's most poorly placed exhaust flange bolts off. Then crawl all over above and below the car to undo the stupid O2 sensor wire. Fuck this midpipe and everything it stands for.
Rear chassis brace now! I believe NA8s have a version of this.
This is weird. For some reason Mazda hard-mounts the exhaust to the bell housing with a big-ol bracket and a tiny-ol stud. Said stud was broken. I believe my "suspension clunk" is actually the exhaust hitting this bracket.
The bracket will not go back on the car #weightsavings
Driveshaft off the diff and slid back to give the trans room, unbolt the shifter from inside the car, undo the speedo plug and neutral safety switch plug and two grounds from the top-passenger side, undo the PPF and swing it sideways out of the way, use a ridiculous amount of extensions do undo several bell housing and starter bolts...
Don't forget to take a moment to marvel at this absolutely hilariously dumb curly-Q clutch line
Old clutch and new clutch.
Press out the old pilot bearing which was super crunchy and awful, resurface the flywheel, press in new pilot bearing, replace throwout bearing, replace the rear main seal because why not, toss the flywheel and clutch back in the car, spend 4 hours trying to stab the trans back in place. Swear. Bolt driveshaft and PPF back up. Put bellhousing bolts back in. Spend 4 hours swearing at the stupid fucking clutch line brackets and starter motor. Bolt up exhaust. Snap 1 of 3 studs on the manifold. Swear. Forget rear donut gasket. Take exhaust back off, put gasket in. Put back together. Swear. Put bracing back. Go into cabin and spend 3 hours trying to get the shift bushing to line up and go back into the cup properly. Swear. Notice your 1-year-old shift boots are already torn to hell. Swear. Reassemble interior, realize you forgot to put the insulation/sound deadening back over the shifter. Swear and disassemble center console again. Replace deadening. Reassemble interior. Start car. Drive home. Enjoy clutch that no longer shudders like the car is having an orgasm every time you leave a light.
Things the Miata still needs:
valve cover gasket

40k overdue for water pump and timing belt

front main seal

motor mounts

hardtop brackets

bodywork
more bodywork
even more bodywork
I should just give up all pretenses of any of my cars ever fucking looking decent because the universe seems to disagree with me on that on a fundamental level