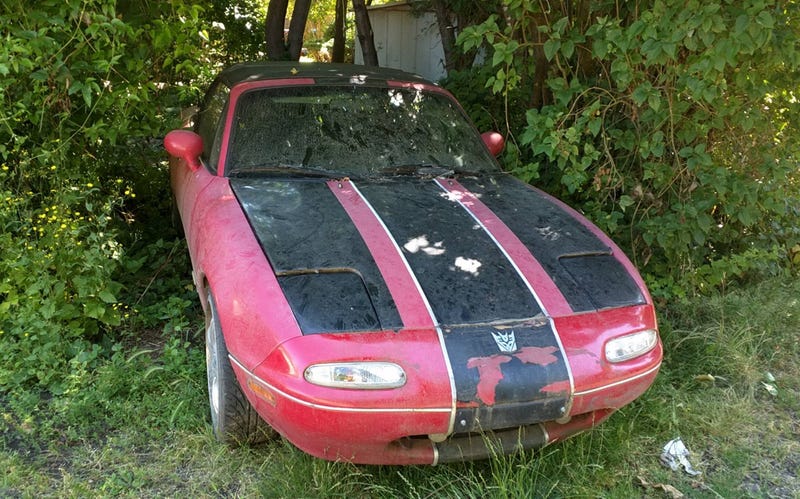 Over the weekend, after realizing that the Craigslist Triumph wasn't quite offering me the challenge I'd hoped for, I decided to press my luck and add another project to the garage. I heard about a stupid cheap Miata through a friend and figured for this kind of money, what the hell? Why not? The backstory here is that it stopped going into gear when running and the owner, lacking the skill to complete the repair, let it sit in his back yard for the better part of a year. Now he is moving and needs it gone (hence the price). After confirming the car existed, I gave him the money without much in the way of an inspection (what was I going to do, talk him down from $200?)
Two hours later and a call to AAA saw the car in my garage. I put in some fresh gas, connected the old battery from my FR-S, and cranked her over. Life! Let her idle for a bit to get things flowing, but it sounded healthy under there, especially considering it has 230K miles! I pressed in the clutch, and nope, not going into gear. Put it in first, cranked it, and after a quick lurch there I was, idling in first with the clutch disengaged. I began to let the clutch out and while there was quite an awful grinding noise coming from the bellhousing at the point of engagement, the clutch behaved kind of like a clutch should. It grabbed in a linear predictable fashion and I was off. Now, those really awful noises continued every time I pressed in the clutch so dropping the trans to see what's up is in the very near future, but aside from that she actually drove pretty well! Engine is stronger than I expected for the mileage, brakes work, and shocks don't feel blown either. That said, as I drove the clutch engagement point seemed to move around at random and sometimes not exist at all (not slipping, just always engaged)
I'm excited, If I can sort out that issue I'll actually have myself a decent little roadster. That's not to say she'll EVER be a looker, let's go on a quick tour of how much Miata you get for $200
First thing I did was give her a wash and tore off the Transformer and "turbo" logos
Looking better already right? The striping (and those lines that look white were actually chrome trim) wasn't really doing it for me so that came off. This left behind a THICK layer of vinyl glue that I still haven't been able to totally remove with any solvent from goo-gone up through gasoline. Any suggestions guys? Either way, I think an improvement for now.
Oh yeah, did I forget to mention the fucking 18" chromies and bondo'd fender? :) I have a lead on some super cheap stock Daisys that will replace these monstrosities later this week, I hope. As for the bondo, whole car is getting rattle canned, so not a concern to me.
The interior is pretty much shot
But the previous owner seems to have put in a pretty damn decent stereo cleanly and the top is in great shape (for a $200 car, so no tears)
There is some rust on the quarter panels, thankfully the structural area behind appears to still be intact (as in I can hit it real hard with a hammer and it doesn't disintegrate)
Engine is a little dirty, but I've seen way worse *cough* My 540i *cough*
Oh, and this is the key... Yes a screwdriver also works
I dug around in the glove box and found a pretty comprehensive service history, though I could use some help deciphering some Oil Can Henry's acronyms (The following from the service history. OSC, FSC, RRD, RPS, RRS, RAD, EG, ESL, RAF, RTS, ESL)
On another note, dear god throw away your stuff before selling a car! There was stuff in the glove box with social security numbers, bank account, and routing numbers.
I also found this awesome sticker, which will find its way onto Zombie (my '85 Aero 50)
Oh, and I found this too
Sorry, that probably should have had a "trigger warning", then again I didn't get any warning before two of them crawled out of the fender liner onto my arm...
I sprayed the whole car down with insecticide and it's living outside until I'm convinced they're all dead *shudders*
Anyway I'll be pulling the trans over the long weekend and updating from there, stay tuned!