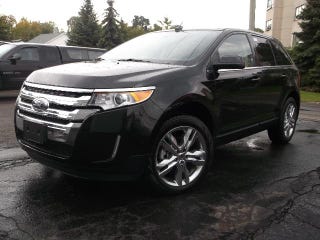 My co-worker just rode by my building to show me her 2013 Ford Edge. She got a great deal on it because it was a dealers demo, she actually saved about 6 grand off msrp. It's a "Limited" trim level with every bell and whistle you can add to the thing. While doing my usual vehicle inspection I noticed some out of the norm wear for 600 miles on the odometer....
The front leather seats are cracked to hell
The front bumper was out of alignment so bad that I myself popped the entire driver side back into place and it still popped back out.
There's easily 10 random door dings from the base of the truck as high as the door pillar
She's already noticing weird rattles from the inside
She already has taken it in for paint work that she didn't notice when she bought it (rear tail gate srape) and it's STILL not right.
I mean are the demos hooned to literally pieces? I thought they were just intended for show room floor and feature demonstration purposes?
So would you buy a "demo" if the price was right? (car in picture is a google image)