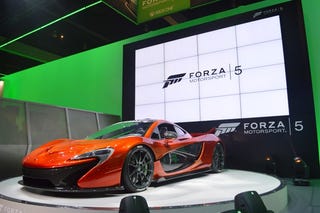 Here's what's been cut...
Abarth 131
Acura ARX-02a
Alfa Romeo 33 Stradale
Alfa Romeo MiTo
Alfa Romeo Giulietta QV
Alfa Romeo Spider
Alfa Romeo Montreal
Alfa Romeo 155
Alfa Romeo TZ3
Ascari KZR1
Aston Martin Lola
Aston Martin AMR One
Aston Martin DBR1
Aston Martin DB4 Zagato
Aston Martin DB7 Zagato
Aston Martin V12 Zagato
Austin-Healey Sprite
Austin-Healey 3000 MK3
Audi TT 3.2
Audi Sport Quattro S1
Audi R8 LMS
Audi R15++
Audi A4 DTM
Audi TT-R
BMW V12 LMR
BMW M3 GTR
BMW Z4 GT3
BMW 507
BMW 3.0 CSL
Bertone Mantide
Bentley Speed 8
Cadillac LMP2
Chevrolet Corvette C5.R
Chevrolet Corvair
DeTomaso Pantera
Dodge GTSR Team Oreca
Dodge Viper SRT ACRX
Ferrari F40 Competizione
Ferrari F50 GT
Ferrari 312PB
Ferrari 250 California
Ferrari 365 GTB/4
Ferrari 458 Challenge
Ferrari FXX
Ferrari 599XX
Ferrari 599XX Evoluzione
Ferrari 599 GTB
Ferrari 575 Maranello
Ferrari 430 GT2
Ferrari F355 Challenge
Ferrari 330 P4
Ferrari FF
Ford GT GT2
Gumpert Apollo S (or Enraged)
Hyundai RMR Veloster
Honda Lola
Honda NSX-GT500
Honda NSX R GT
Jaguar RSR XKR GT
Jaguar XJ220
Jaguar XK120
Koenigsegg CCGT
Koenigsegg CCXR
Lamborghini Sesto Elemento
Lamborghini Gallardo GT2
Lamborghini Diablo GTR
Lamborghini Aventador J
Lancia Delta Integrale
Lancia Stratos
Lexus SC430 GT500
Lexus LF-A Nurburgring ed.
Lotus Evora Type 124
Lotus Elise Sport
Lotus '56 Eleven
Maserati MC12 GT1
Maserati MC12 VC
Maserati Gran Turismo GT4
Maserati Ghibli
Maserati 300S
Mazda Furai
Mazda B09/86
Mazda RX7 Spirit-R
Mazda MX-5 2nd gen Mazdaspeed
McLaren F1 GTR
McLaren MP4-12 GT3
Mercedes C-Class DTM
Mercedes SLS GT3
Mercedes CLK GTR
Mercedes 300 SLR
Mosler MT900S
Nissan JGTC R34
Nissan R35 GT500
Nissan R390
Nissan R390 GT1
Nissan 350Z GT300
Noble M600
Opel Astra DTM
Pagani Zonda R
Pagani Zonda GR
Pagain Zonda C12
Panoz LMP1
Panoz GT2 Abruzzi
Panoz GTLM
Peugeot 905C
Peugeot 205 T16
Radical SR8 RX
Renault 5 Turbo
Sauber C9
Scion FR-S
Seat Leon Supercup
Shelby GT500 KR
Spyker Aileron C8
Subaru Impreza GT300
Subaru Impreza S204
Suzuki Monster SX
Triumph TR3B
Toyota GT-ONE TS020
Toyota Supra GT500
Toyota Supra RZ
TVR Cerbera Speed 12
Ultima GTR
I'm sorry guys but the car list is keeping me from getting this game. Well at least at launch. To suddenly axe half of the cars, most of which were cars people requested in the Jalopnik packs, is unacceptable.