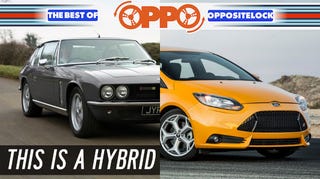 Assembled here are the best Oppositelock posts from Wednesday and Thursday. Today we've got some interesting hybrids, someone who doesn't like hot hatches, the beautiful roads of Devon and maybe the Miata isn't the answer.
Here Are Ten Hybrids You'll Actually Want To Learn About - Blake Noble
It's come to my attention that a tall, rather peculiar fellow from Georgia (who apparently owns a highly convincing Fiero kit car and is obsessed with potato farmers) recently decided to educate car enthusiasts on Jalopnik about hybrid cars. You know, those boring egg-shaped things that run on a billion d-cell batteries and few gallons of 87 octane. Read more…
---
Everyone Will Hate Me Now - Neal Norman
I'm officially committing Jalopnik Seppuku tonight: I don't like hot hatches. In fact, I've never driven one and come away particularly impressed. Now, before someone covers me in boiling Mobil One and nails me to a cross of transverse axles, I must say that I love the idea of a hot hatch. Read more…
---
The Beautiful Roads of Devon - Jonny Edge
Pictured here is a humble road in Devon, England. It's just one of many in a beautiful region crammed full of natural beauty. This is the place I call home, the place where I do almost all of my driving. Read more…
---
Maybe the Miata is not the Answer - Jarod Rose
I have a theory. But first I have to put on my flame suit. Ok now I am ready, we always say the Miata is the answer, why is that? Why do we all cling to a car that is forever condemned by the public to be a girl's car? Is it because it is fun? Because racecar? Because the Miata is cheap? No. We cling to the Miata for a different reason. We cling to the Miata because we have nothing else to cling to. Read more…
---
Is The French Luxury Car Finally Back? - Kookanoodles
That thing you see above is the new Peugeot Exalt concept, to be properly unveiled at the Beijing auto show. You might be thinking that it's just another design study from the French manufacturer, not destined to reach production in any way, like the SR1 of 2010. You might be thinking it's very pretty, yes, but rather irrelevant in the real world. Read more…
---
Growing Out of the Evolution and STi - RightFootDown
Bookshelf. Park bench. Girlfriend-repellent. Whatever you call it, it's been the easiest way to spot a Subaru STi or Mitsubishi Evolution for over a decade. And like it or not, it's the rear spoiler that single handedly gives the STi and Evo a foul odor of immaturity to those outside of the enthusiast world. Read more…
---
Would You Roll The Dice For The Chance At A Classic? - TheDailyTurismo
Some dude is selling 8 classics (912, Type 1, SL Merc, BMW 2002) for $120k on craigslist right now...but what if the buyers were a group of 8 folks who each put in $15k and their names in a hat. Would you risk the chance of overpaying for a Bug to get a deal on a 912 or W113 SL? Read more... and also check out The Mintiest Alfa Romeo Alfetta Sport Sedan Left On Earth.
---
Formula Cars? Check. Trucks? Check. Legends? Check. Bikes? Check. - Gabor Vajda
If you live in Europe and like all sorts of track racing - may it be on four or two wheels -, you are about to be in for a treat this year, because you are getting all of it in one package... delivered by The Hoff himself. Read more…
---
NASCAR Tearing Up A Few Of Europe's Finest Tracks - Gabor Vajda
The NASCAR Whelen Series has been around for quite a few seasons now, but it hasn't been a year since they got NASCAR's full support and a title sponsor, which makes 2014 the first full season of official NASCAR racing in Europe. The purpose of the series is to bring some American "redneck" flavour to the (otherwise oversaturated) European market, where - in case if you were wondering - not everyone is fond of the champagne-sipping, bowtie-wearing, French-accented high-class racing atmosphere F1 and its likes have to offer. Read more…
---
Fantasy WRC Round 4: Portugal Review - Dusty Ventures
Let me talk to you about POINTS! FANTASY POINTS! Step right up because I'm giving out fantasy points by the truckload! Tired of BEES? Well that's good, because for every one of Oprah's bees I'll give you 10 points! Not enough? How about 100 points? I've got more points than I know what to do with! Read more…
---
C7 - a tale of the new Corvette and a cruise - Torque Affair
I felt like a celebrity...along with Tom, Larry and their friends. The new C7, Z06 and C5 Corvettes got a ton of attention at the small town of Hye. The nice folks there loved the Corvettes. There was even a lady who was admiring the cars and wanted her picture taken in the Corvettes. Lots of love for the Vettes in Hye, Texas. Read more…
---
NASCAR Cup Rookie Update: Montoya Who? - RJ Turnbull
Well, it's been a little while since I've written about this year's Sprint Cup Series rookies. And I haven't even gotten to talking about the Nationwide (just as loaded as Cup!) or Camping World Truck (congrats on ROTY, Ben Kennedy!) crops. We're already 7 races into the Cup season and we've already seen most of the rookies post some impressive results and some have some immense struggles, so let's run them all down from worst to first in the ROTY standings to see how they've been coming along. Read more…
---
Technically Formula 1 - Bahrain In-Season Test - Fractal Footwork
Technical innovation is what makes Formula 1 so different from any other form of racing. The on track action is as much played out by the engineers and aerodynamicists as it is the drivers. We are here to admire, study, and discuss this beauty that exists on the ragged edge of what we think is possible, or at least what we thought was possible. Read more…
---
The Best of the Rest
Louros posted pictures of his Miata. BKRM3 went to a track day, bro. Jobjoris was surprised to see a DeTomaso Pantera. Zeontestpilot shared some photos of a decaying '32 Ford dump truck. B. Body Burnout did some more lunchtime carspotting. LuczOr made more progress on his Z28. CammedCTSV built a booth at Barret Jackson. Zipppy updated his SBC build. DarrenMR bought a Mini. M-b-w got a Hyundai. BeauM got bored and made a Transformer. Duurtlang got his e30 325i touring home. PatBateman shared pictures of his friend's Evora. Garrett Davis bought a Focus ST. Chandonpierre1 did an overhaul on his Miata.
---
As always, If I've missed something and you would like me to include it, let me know.
Discussions
There were several posts that asked questions and sparked some good conversation on Wednesday and Thursday. Take a peek and chime in on some of those listed below:
Just the #tips
These posts have already been shared with Jalopnik directly but deserve to be mentioned again because they were first posted on Oppositelock:
Want to participate on Oppositelock? Check out the handbook for posting on OppositeLock as well the Oppo tools to help you get started.