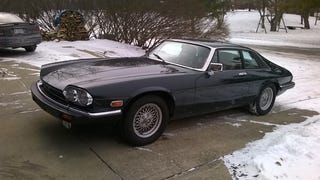 Aparently it's absolutely mint. For $6,500 he discovered a 1990 BRG model so it has Magneti Marelli engine management instead Lucas Electric and the prince of darkness band. He couldn't find anything wrong at all with the body and the interior is of course the finest Connolly leather and perfect. 5.3 V-12 that only needs a tune-up. Transmission is a Th400 automatic so readily repairable and replaceable.
The original cassette deck was in the trunk. The cassette part does not work however it's the original part and the radio still works. The only other things on the agenda are some resonator removal for a better sound and another twenty horsepower, plus some better gas shocks for the back for the ride.
My friend is well versed in googling and foruming and Guze brewing and has a good idea on what to look for, however the secret underbelly of this car he is really wanting to know more of. He understands there will be the sometimes electrical issue or mechanical adjustment/fix and is okay with that, but, just what little Englishly proper gremlins can exist that only the owners of such cars can advise on? Please advise Oppositeloch.