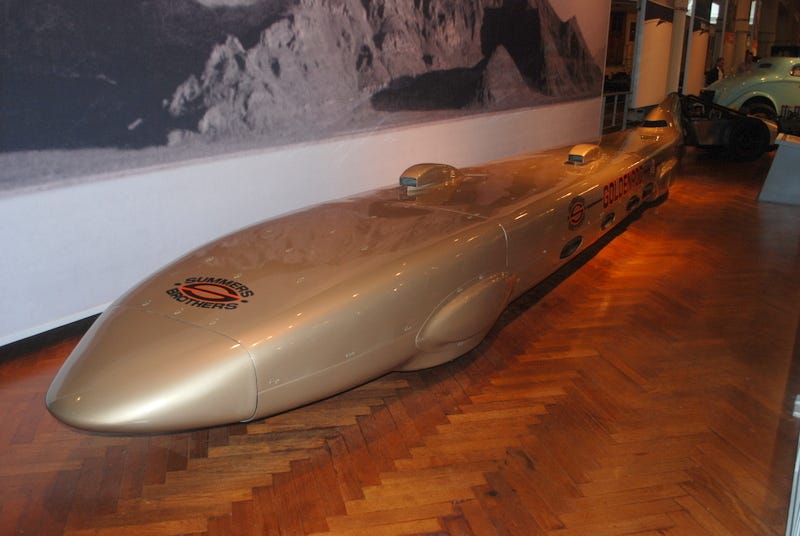 I recently paid a visit to the Henry Ford museum in Dearborn, Michigan, and made a point to visit and photograph one of the coolest vehicles ever built. The Goldenrod, which set a land speed record - and probably a record for having the most Hemis under one hood.
In 1965, Bob and Bill Summers - the Summers Brothers as they were known - build a vehicle with the intent of setting a new land speed record for a wheel-driven vehicle. At the time, jet power was all the rage at Bonneville but these guys wanted to see what a more conventional setup could do. At least "conventional" as in piston engine power.

So, they got four Hemis (the good old 426 cubic inch ones), assembled them under an insanely long body (the car is 32 feet long) and put a cockpit at the back for "Bob" to aim this thing. The four Hemis put power to the wheels by "Two Spicer 5-speed manuals with first gear removed, simultaneous shifting via special Hurst shifter." Eh, first gear is for wimps.
And it did set a new record. It crossed the salt at an official 409.277 MPH - a new record for wheel-driven cars. And that record stood until 1991. The brothers got their pic on the cover of Hot Rod and the car now resides in the museum. According to the signage, the car had something like 2,400 horsepower. And I remember reading the article about it in Hot Rod (it was the same issue that introduced Dodge's "New 'Charger.'" The four Hemis were more or less stock.
I've noted before that the Henry Ford is well worth the visit. They also have a Tucker and a Turbine Car, along with acres of other important and cool cars and machines.
And, as I always do on Saturday, I must remind you that Lehto's Law for the week is out.

In Podcast form.
And Video form.
Carry on.
Follow me on Twitter: @stevelehto
Hear my podcast on iTunes: Lehto's Law
Steve Lehto has been practicing law for 23 years, almost exclusively in consumer protection and Michigan lemon law. He wrote The Lemon Law Bible and Chrysler's Turbine Car: The Rise and Fall of Detroit's Coolest Creation.
This website may supply general information about the law but it is for informational purposes only. This does not create an attorney-client relationship and is not meant to constitute legal advice, so the good news is we're not billing you by the hour for reading this. The bad news is that you shouldn't act upon any of the information without consulting a qualified professional attorney who will, probably, bill you by the hour.