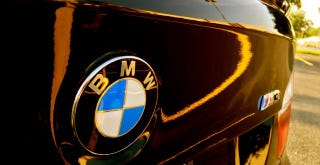 Chi's 2008 BMW E90 M3 is such an incredible bargain. He bought the car for only $39,600 with roughly 24K miles on it in 2011. I have no idea how he was able to get such a great deal on what was at the time a relatively new car.
If you look at Autotrader today, you can see that a 2008 BMW M3 with roughly 80K miles is selling for around $32K. That means if Chi were to sell the car today, he only paid $7K over 3 years to drive one of the greatest sports cars ever made.
That's not counting regular maintenance like tire replacement, oil changes etc. Still…this M3 is an undeniably amazing deal. I'm so jealous that Chi has been able to enjoy this car at such a low cost of ownership! Who would've thought?
And to think, back in 2008, the car probably cost somewhere between $70-80K, brand new. I will never buy a new car again.
Chi definitely doesn't baby his M3 - it's his daily driver. He puts on about 20K miles a year and drives it like it should be driven - some of which he demonstrated to me. I love the 4.0L V8. It sounds great and definitely makes the M3 pretty quick at 400+ hp.
I must say that I am biased because this is the car that I have had my eyes set on for a while. The E90 M3…or the Corvette Z06. Two vastly different cars, I know, but approximately the same price when it comes to buying them used. I'm completely torn – I don't know which one to get. But I don't have the money to purchase a car anyway so it's a moot point.
Ok…back to the M3. The build quality of the E90 M3 is amazing. The car itself has held up really well over the years. The interior looks just as good as it must have been when Chi bought the car. I was just in a brand new 2015 BMW M4 the other day and although the interior quality was better, it definitely wasn't way better. I would still get the E90 because not only is it much cheaper and mostly depreciated - but more importantly it has the fantastic V8 which I love.
Also, I really like the way it looks.
I'm not sure what it is about the E90 M3 but I really do think that it's one of the best looking cars around. Many people that I've talked to can hardly differentiate between a regular 3-series and an M3. But not to me - the difference is huge!
Take, for instance, a regular ol' series...
Now, compare that with this..
What a stark difference. To me anyway...
I love the bulge in the hood, the wider wheel wells, the quad exhaust, and the aggressive front end. The car doesn't necessarily scream "hey, look at me!". It has more of the calm confidence of knowing how dominant it is when comes to superior driving dynamics and being an all around superstar.
One of my favorite aspects of the car is the absolutely perfect wheel to fender gap. I don't think any car comes from the factory with as good of a gap as this M3. It does wonders for the overall stance of the vehicle. Yet another thing that makes me love this car so much.
If you want a car that's universally regarded as one of the best performance sports car around by the big-shots in the auto universe, then it's really hard to find something better for the price. A used-car price I mean.
You should be able to purchase a 2008 M3 with reasonably low miles in the low $30K range. The best thing is that these cars will hold their value, so even if you don't like it you can sell it for not that much lower than you bought it. Don't you want one now?
I've already been wanting one as I mentioned earlier but now I think I need to get one. But wait…what about the Z06? Oh, nevermind. Can't buy either anyway.
Check out more posts at Torque Affair