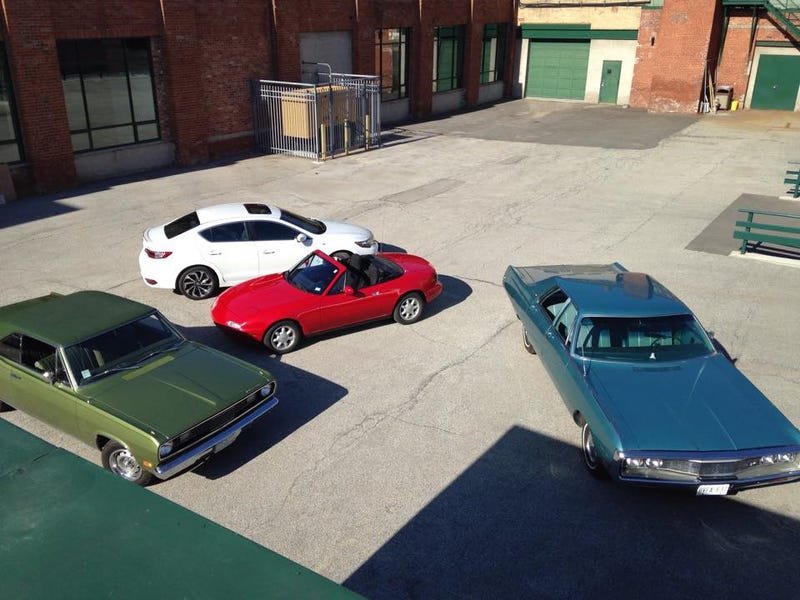 First cruise of the season! WARNING: The following post contains Lancia
Yesterday was the day when I FINALLY unearthed my 1969 Chrysler from storage. My good friend helped me pick it up in his pristine 1971 Plymouth Scamp. That thing is perfect and it's his ONLY CAR in Toronto. The dude is a madman.

We were cruising along in our happy MoPar convoy of two until I saw a parked Lancia Delta Integrale and swerved wildly off the road to park next to it. We stayed there gawking at it until the owner came out and he was a pretty cool dude. Also: This picture featues 8, 6 and 4 cylinder engines.

After covering the poor guy's Lancia in drool we met up with our other cruise buddies. Guess who wimped out and didn't drive his bitchin' 1980's Civic wagon?
After a celebratory meal at Hooters we called it a day and went our separate ways. The Chrysler was experiencing some braking issues involving leaky wheel cylinders so that cut my drive somewhat short. I'll get it fixed this week and it was a great start to the season. Ahhhhh, spring.