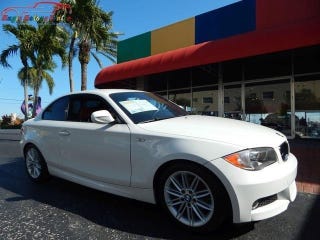 The E82 BMW got very little love during its run. The naysayers said it was too much of a compromise space wise for too little of a discount to its comparatively equipped bigger brother the 3series. 135i's were bought by enthusiasts looking for the spiritual successor of the 2002 (at least thats what BMW Marketing wanted you to believe). The 128 was bought by legal secretaries, and dads as high school graduation gifts for their teenage daughters on their way to an overpriced liberal arts private school. Did i mention, 95% were sold with an awful steptronic auto tranny?
You're probably wondering, why would I buy this over a Fiesta ST? I'll tell you why. You see, these often overlooked 128's can be spec'd out in a way to get you a pretty high score in our very own Jalopnik Quiz that was only working half the time and spewing ridiculous results the other half of the time.
This 2011 BMW 128i is the perfect jalopnik spec edition. This hits all the checkmarks folks,
RWD
Coupe
6 sp Manual
NA straight six engine
Hydraulic steering
Sunroof delete, manual seats (LTW Edition!!)
Alpine white w Coral red interior
M-Sport Trim (Antracite Headliner, Shadowline Trim, M- Steering Wheel, 135i front/rear bumpers, 135i suspension, M LOGOS EVERYWHERE!!)
Cons; No LSD, No Xenons
Its normally aspirated 3 liter inline six-cylinder engine produces a respectable 230 horsepower, with 199 lb-ft of torque. While I'm sure, the Fiesta can be "chipped" for an additional "100 horsepower BrO", you're still driving a Fiesta. If you lose the boat anchor wheel and run flat combo, you can get these to right about 3000 -3100 lbs. Want more power? Swap the DISA manifold with that of an x30i model add a tune and boom, you're up to 260 hp/230 lb-ft of torque. Not too shabby. At less than $20k, this is a steal.
Look at those seat bolsters!!!! Just waiting to snug you while thrashing your local autoX event. Some will argue, it's ugly. That's subjective. All I'm saying, is that when you are looking for an affordable jalop, the 128i spec'd with a manual and m-sport, is the car no one seems to know about.