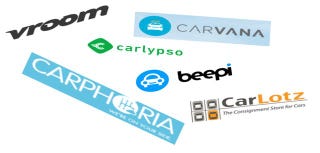 Apparently you can buy a car in 11 minutes these days. At least, that's what Carvana claims. How is that even possible? Doesn't it take 10 minutes just to find someone to talk to at a dealer after you find a car that you like? And what the hell is Carvana?

I didn't realize until recently that there have been numerous sites going up that are attempting to make the buying and selling process for used cars easy and, dare I say, a "fun" process for us. Fun? Really?
We all know that the used car market is generally nightmarish, time-consuming and entails having to deal with a bunch of crappy people only to end up with a result that is less than satisfying. If you've had an amazing experience then you're in the minority because 99% of the time something goes wrong when you try to buy or sell a used car leaving you with high blood pressure, sleepless nights, and flu-like symptoms.
Can all these recently founded companies solve such an insane problem? Have these startup founders gone mad trying to tackle the world of buying and selling used cars? It is probably easier to fix global warming or even knock some sense into Miley Cyrus than it is to fix the used car transactional marketplace.
Their main value proposition is that they're removing the middlemen like dealers and salesmen and making car purchasing much the same as buying any other product online - like your 5-star paper shredder, for instance, that you can't wait to get your hands on - you know, the one that can rip through hundreds of pages simultaneously.
All these companies want you to do is scroll through pictures of cars while you snack on Cheetos and click "buy" on something that you like and then have it magically show up at your doorstep. Sounds too good be true?
If you're thinking that you could never buy a car without actually seeing and driving the car, then hang on a second because these companies have thought of that.
If you do end up buying a car from Carvana, they will allow you to return the car after a period of time if you don't like the car - much like Zappos where you can return the shoes you buy online if you don't like them. That's right - we will soon be living in a world where you can buy cars just like you would with shoes. Could this actually work?
All of this is very timely since I'm currently in the process of finding a new "used" car. My requirements are simple: I just want lots of power, a manual transmission and something that I can easily sell after driving the car for a while.
So I proceeded to buy a gigantic bag of Cheetos and started browsing through a bunch of these sites with cheesy fingers while I chomping on delicious processed, crunchy cardboard. I looked at sites like Carlotz, Carphoria, Carlypso, Carvana, Vroom, Beepi. I'm sure there are others I missed like Cars4u, Carmania, CarsEverywhere, SellUrCar, CarsNThings etc...
I started with Carlotz. This is essentially a consignment store for used cars founded by a couple of Harvard business school grads with impressive backgrounds (out of all the companies they could've started, they actually wanted to enter the used car market? What were they thinking???). With so many consignment facilities out there for used cars, it's tough to see how they're differentiating themselves from the competition.
Carlotz supposedly makes it easy for you to sell your car by doing all the work and charging you a "$699" success fee if they end up selling your vehicle. It may be worth it depending on how big of a dealer network they have managed to create and how much exposure the site gets which could help you sell your car quickly.
On the purchasing side, they seemed to have a decent range of cars like this 2002 M5 that I really liked.
Their inventory was fairly limited albeit diverse. But nothing really caught my attention other than the M5 and so I moved onto other sites like Carphoria.
Carphoria is a startup based out of Houston and essentially has a nationwide network of dealers hooked up to its system to make it easy for you to sell your car. These guys are actually not buying your car from you; they're just connecting you to dealers everywhere. It sounds like a simple enough concept but apparently it took two years to develop their software. Two years to develop a site connecting folks? Can't we just do that in minutes on Facebook? Of course, I'm joking - there is more to it than meets the eye, but still, two years???
I was curious how much they would offer me for my current car I'm looking to sell (2007 Mustang) and they gave me a range of $6,855-$8,345. Unfortunately, to seal the deal I would have to drive to Houston where they would inspect the car in person and give me an offer. Now that definitely didn't seem worth it considering how much I really didn't want to drive to Houston and the fact that Carmax was already offering me $8K. Why bother with Carphoria when I could just drop my car off at my neighborhood Carmax that's 5 minutes away from me?
Carphoria also doesn't sell cars which I was ultimately interested in, and therefore I decided to check out Carlypso.
Carlypso is a Bay Area startup founded by Stanford Business School grads that is aiming to revolutionize how we buy and sell cars. They are all promising their venture capitalists and investors that they will change the world one used car at a time. Although, it's limited to the California area for now, the plan is to roll out nationwide in the not too distant future.
Carlypso doesn't actually own any of the inventory you see on their site. Instead, they post cars that they find at closed wholesale auctions while the cars are still owned by manufacturers, leasing companies, rental companies etc. and then if you find something you like, they will buy it and sell it to you which is likely a scalable concept.
Selling a car through Carlypso is unique as well because they allow the buyer to test drive the car first. First they send an inspector to check out your car to make sure it's not a disaster. After their due diligence, they send you a GPS tracking device to put in your car; people who are interested in your car will go through Carlypso to test drive and since there's a tracking device, Carlypso will know where your car is. Or at least that's what they say - I suppose it is possible to just get rid of the GPS and steal your car. I do hope Carlypso has an FBI agent on their board of advisors to quickly help track down stolen cars which is bound to happen at some point since a test drive that turns into theft seems like a plausible occurrence.
When or if the car does sell, they end up charging you 5% or a $1500 maximum for expensive cars. Is it worth it? It could be if you would rather watch binge-watch True Detective and Silicon Valley than sell your car - I know I would.
Carlypso does do trade-ins but it's all in person. Sadly, there wasn't a quote I could receive through email or on their site.
In general Carlypso appears to be really transparent with their fees; they'll charge $750 for cars you purchase that are below $20K and $1000 for cars above $20K. They claim that that their fee is much lower to the average $2500 that dealers charge which makes sense since that is their primary competitive advantage. Carlypso seemed like a good site to me up until I ran into some severe frustrations when looking for a car to buy.
I found that conducting a simple activity like searching for the car I wanted was extremely difficult because of the fact that there were very few filters available for me to use. Supposedly they have 4000 cars in their database, but you can only search for make, model, year and color and not by transmission or any other criteria which was a shame.
Believe it or not, worse than the lack of filters was their horrible keyword search. For example, you cannot type in "335" and pull up 335s. Instead you can only search for "BMW 3 series" and look through all of them to find your 335.
And if you happen to find a model you like, the picture may not match the kind of car you're looking to buy. Here you see a 6 series in the picture but the actual car is, in fact, a 3 series.
Carlypso feels like a site that was built ten years ago lacking simple search functionality that even your grandmother has come to expect these days when shopping online for sleep masks. Considering that this is a Bay Area startup where software developers are a dime a dozen, surely they can find a couple that can match the thumbnail picture to the actual model listed for sale.

Carlypso also doesn't put any effort into making the cars look good in their pictures. There is a huge amount of variation and it's tough to tell what kind of shape the car is really in. Granted, they let you test drive the cars, but initially you just have pictures to go of off and unless you find them appealing you probably wouldn't be interested in driving these cars.
For example, here is a less than flattering picture with dirty scraped up wheels. The condition was marked as "like new" but I would guess that the car is anything but new.
This blurry picture from a bad angle certainly isn't doing the Audi A6 any justice. It could be a car in fantastic shape but you'd never know by looking at these terrible images. Carlypso appears to take whatever crappy pictures the seller provides them.
Unlike other sites I will be talking about below, Carlypso won't allow you to return the car if you don't like it. You'll have to find a defect with it first before you can return it for their 30-day money back guarantee. That probably means that you will most likely not be able to return the car at all unless you find something terrible wrong it - kind of like convincing your third party warranty company that the reason the window regulator broke wasn't because you pushed the down the window switch a little too hard.
This is unlike Carvana where their return policy appears to be a "no questions asked" policy assuming, of course, that you didn't destroy the car while it was in your temporary possession. But how would they prevent you from completely thrashing the car around like it was the last car you would be driving before the impending apocalypse? So many questions but not enough answers!
Carvana offered me a trade-in quote through email saying that my car was worth $8531. Their trade-in offer was firm and non-negotiable which was a disappointment because other sites were actually willing to beat additional offers.
I was initially excited by Carvana but their inventory was mostly boring; they obtain cars from places like auctions, rental fleets, individual owners etc. and after scrolling through the options, I came across some ultra exciting vehicles like all these RAV4s.
And after some more searching I found this.
They are a startup so I understand not having all the kinks worked out.
Overall, searching cars in Carvana was so much better than Carlypso because I actually found filters where you can specify what you want!
There is also a 7-day money back guarantee in addition to a picture of the car showing you spots where there are dings or imperfections. Carvana is similar to Carmax in that they do offer warranties, but I would highly doubt it's as good as Carmax's. I'm sure Carvana would need to reach some sort of scale before something like that even makes sense from a business perspective.
I would've liked to actually use Carvana but since nothing in the inventory was all too appealing I moved onto Vroom.
Vroom offered me a trade-in value as well but first I had to take pictures of the car using my phone. It was easy enough to do so but I was spoiled by Carvana and Beepi where all I had to do was type in a VIN number and receive a quote almost instantly.
But it was worth it! A couple hours after I sent in the pictures, I got the highest offer from them at $9K. However, since Beepi mentioned that they would give me $250 over any offer I received, they obliged by offering me $9250 for the trade-in.
Vroom had some pretty interesting cars - quite a few actually that gearheads would love to get their hands on. For example, I found a 2012 Audi S4 with 41K miles on it that was reasonably priced with 8K miles and 16 months left on its factory warranty. Nice!
Vroom says that their prices are roughly $2K below market. They are slightly different from the competition in the sense that they own their inventory, recondition and bring them back to "supposedly" pristine condition. They also offer a 7-day money back guarantee like Carvana which is nice during which time you can put on 250 miles on the car that you think you want to own.
Vroom might have the best used cars ever that basically resemble new cars, but I do wonder if they can keep up this model and still make a profit if they expand this nationwide. Think about all the work needed to make these cars look good, handling returns, free shipping and dealing with picky customers like us! Can they really make that much money this way? Regardless, I do appreciate that there are people out there willing to try, because I sure as hell am not.
Beepi handles both buying and selling your car but the catch with selling your car is that it can't be too old. I tried to sell my 2007 Mustang but the oldest car that they would take on is a 2008 model. But even with a car you're trying to sell, they have inspectors come out and take a look. They will, however, guarantee a 30 day sale and therefore if no one buys it then they will buy it from you.
Asking about a trade-in my car on Beepi resulted in me immediately hearing back from a human (yes, a human - imagine that!) and found out that my car was worth $8,831. That was pretty much in line with KBB "good" values which Beepi mentioned that they generally go with. But this didn't matter, because Beepi offered me $250 over the $9K offer I got from Vroom.
Beepi also had the best website, user experience and more importantly the best search filters of all the sites. Not only could I search by transmission type, but I could also specify how much power I wanted - which was a lot! After being so frustrated with not being able to search with exactly the criteria I desired, Beepi won me over.
They provide gigantic, high resolution pictures of all the cars they're selling, each with a super detailed analysis of everything that's wrong with it. All these circled dots below represent every flaw and defect that was found.
Beepi is so detailed with everything that you can probably imagine what the car would be like before ever seeing it. I loved it! Now if only they had a car I really wanted.
As much as I would've loved to give Beepi a shot, guess where I ultimately found a car that I had to buy - an individual owner selling their car on Craiglist - good ol' craigslist! No matter how many millions of dollars these companies obtain to disrupt the used car marketplace, Craigslist will still be a place where all dreams come true. It was too good of a deal to pass up and so I ended up not being able to give Beepi a try...but there's always next time.
So, can any of these startups be a viable alternative to Carmax, Craigslist, dealers etc.?
They can be. The biggest downside I see with these sites for now is a lack of inventory and listings. Sure, they have a ton of cars that might work for folks who just need transportation, but for us car enthusiasts, who need something specific and special, these sites are still lacking. Not to say that you couldn't find what you're looking for if you have the patience, but you might as well find it on Autotrader.
I do like the idea of clicking on something and having it show up at your doorstep and returning it if you don't like it although I'm not sure how well that works. What does "no questions asked" really mean? I'm sure it's not as simple as it sounds.
For now, Beepi seems to be the frontrunner in this heated race to disrupt the used car marketplace. In fact, I received this email from Beepi recently..
Good! I'm not surprised at all that Beepi is expanding. The company with the most ridiculous name appears to be the best of them all. Give Beepi a try and let me know how it works for you.
As for me, I'll be ok with my Craigslist find for now until I get a chance to use Beepi. I can't wait. Carmax - move over, Beepi is honking pretty loudly!
---
Torque Affair is about exploring my fascination with cars; I'm always on the lookout for things that interest me in the car world. Like Torque Affair and follow @torqueaffair!